April 08, 2020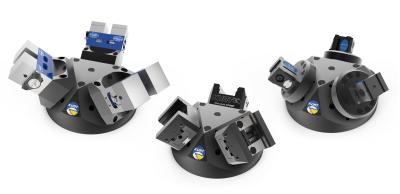 Kurt's Pyramid workholding platform was so well received by the machining industry in 2019, that the company has developed a pre-engineered pyramid platform which is standard and accommodates 12 different vise models. These convenient configurations come bundled with the 45-degree pyramid along with three Kurt vises ready for mounting to machine table and handle parts from 2" up to 7".
The Kurt pyramid workholding bundles facilitate clamping of three individual components in one fixture and completed in a single setup. The Kurt 45-degree design mounting surface is positioned so each vise provides maximum access to all machined surfaces and allows for enhanced spindle and cutting tool clearance.
With the wide variety of Kurt 5 axis vises, the machinist has selection from self-centering and dovetail designs including soft jaws for machining odd shaped profiles into the jaws, hard jaws, and a riser base model for even more part clearance. The Kurt vises that are designed to fit the Kurt Pyramid include these models HP420, HP420C, HP420D, HP440, HP440C, HP440D, HP460, HP460C, HP460D, SCMX250, SCMX425, DTR20. Each bundle package comes complete with 45-degree pyramid, 3 vises mounted, and optional base plate for final mounting on machine table.
The Pyramid platform is constructed of 7075 anodized aluminum and has a 12" diameter base to fit a wide variety of 5 axis CNC machines. The Pyramid comes pre-drilled for easy mounting to most machine tables, pallets or wide variety of sub plates.
Kurt Manufacturing can provide additional setup options such as quick-change pallet systems, hydraulic or pneumatic actuation, robotic machine tending for automation, in-process gaging and inspection.