December 01, 2014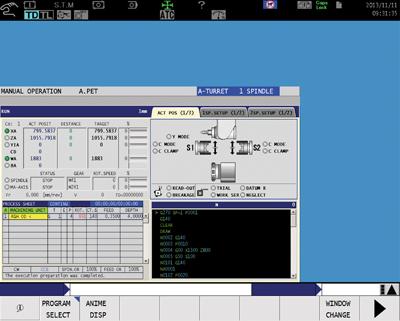 A large, 19" user-friendly display monitor is now standard on Okuma's MULTUS U3000/U4000 and the MU-6300V multitasking machines.
The sizable screen features a true color (32 bit) digital flat panel (1280x1024 60Hz), Intel HD Graphics and operators can choose between full screen mode or expansion mode, which allows for greater visibility of THINC-OSP CNC controls and data. The vertically arranged function keys on the monitor can also be displayed or hidden by simply touching the screen.
In full screen mode operators see information that is customarily displayed on a smaller screen.
Expansion mode gives operators increased flexibility with more information at their fingertips and allows operators to see a conventional 15" screen display plus extra viewing space for apps, widgets and windows applications. Operators have the ability to position the additional viewing space to the left or right side of the conventional 15" screen information allowing them to view the easy operation run screen and available apps all on one display.
Related Glossary Terms
computer numerical control ( CNC)


computer numerical control ( CNC)

Microprocessor-based controller dedicated to a machine tool that permits the creation or modification of parts. Programmed numerical control activates the machine's servos and spindle drives and controls the various machining operations. See DNC, direct numerical control; NC, numerical control.

flat ( screw flat)


flat ( screw flat)

Flat surface machined into the shank of a cutting tool for enhanced holding of the tool.

multifunction machines ( multitasking machines)


multifunction machines ( multitasking machines)

Machines and machining/turning centers capable of performing a variety of tasks, including milling, drilling, grinding boring, turning and cutoff, usually in just one setup.