May 01, 2021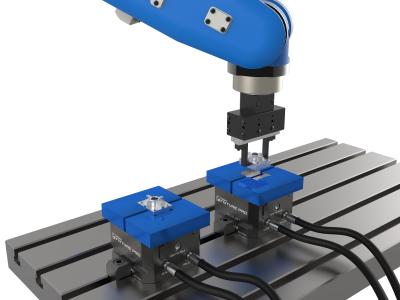 Jergens Inc. announces its new 130mm double-acting hydraulic vise with high holding forces, quick clamping and repeatability for improved speed and part tolerance. The new vise comes standard with multiple mounting patterns, different jaw options and easy access to plumbing and maintenance ports.
Jergens' 130mm hydraulic vise offers users the ability to position the jaws just outside of the dimension of the workpiece to minimize travel when clamping. This, in combination with the speed of hydraulic workholding, reduces clamping and unclamping operations to about one second. The ease of use of these double-acting vises allows users to repeat these time-saving operations, adding up to measurable machine uptime and productivity increases, especially for high mix, low volume manufacturers.
The new vise features a steel body and internal hardened (low friction process) components for greater performance and enhanced durability, even in harsh environments. Only low operating pressures are needed, allowing the vise to perform optimally directly off of machine hydraulics. For flexibility, both Fixture Pro QLS and industry-standard 96mm Quick-Loc™ mounting patterns are included in every vise. The 130 mm vise is versatile and well-suited for multiple CNC machining applications including vertical, horizontal, rotary, 5-axis, and robotic setups.
Quick-change soft jaw sets, available in high strength aluminum (blue anodize finish) or low carbon steel (black oxide finish), extend the range of holding options. Case-hardened jaw inserts are also part of the offering and provide extra secure holding making them well suited for first-pass operations in raw materials.
For a complete solution, Jergens also offers hydraulic pump kits for powering the new 130mm hydraulic vise. The kits come with everything required to hook up and control a vise including the compact pump – mounted horizontally or vertically – and a manual or solenoid zero leak valve to control the clamping action. Clamping force can be adjusted with the filter/regulator, also included. These kits are designed for powering single vise setups, however, multiple vise applications are also possible.
Related Glossary Terms
computer numerical control ( CNC)


computer numerical control ( CNC)

Microprocessor-based controller dedicated to a machine tool that permits the creation or modification of parts. Programmed numerical control activates the machine's servos and spindle drives and controls the various machining operations. See DNC, direct numerical control; NC, numerical control.

fixture


fixture

Device, often made in-house, that holds a specific workpiece. See jig; modular fixturing.

tolerance


tolerance

Minimum and maximum amount a workpiece dimension is allowed to vary from a set standard and still be acceptable.