Published
June 22, 2018 - 05:30pm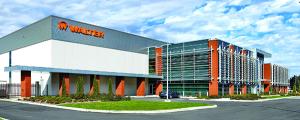 Walter Surface Technologies Inc., Montreal, a provider of surface treatment technologies, acquired the Fastenal Blackstone supply agreement and all related inventory from Sundisc Abrasives USA LLC. With this agreement, Walter becomes one of Fastenal's trusted private label suppliers across the Americas.
"This transaction allows us to accelerate our expansion in the United States by servicing one of the fastest growing industrial distributors in the country," said Marc-André Aubé, President and COO of Walter Surface Technologies. "We are excited to help contribute to the success of the Blackstone brand, and we believe this agreement will also contribute to the success of Walter's own high-performance line of products regarded as 'Only the Best' throughout the industry."
Blackstone is one of Fastenal's leading brands of abrasives and welding consumables known for their cutting-edge technology and quality. Under Walter's advanced design and manufacturing processes, customers will be assured access to a wide range of Blackstone abrasives that will be continually optimized for performance.
"Fastenal is pleased to enter into this supply agreement with the scale of a leading global abrasives manufacturer such as Walter Surface Technologies", said Paul Quigley, Vice President, Product Development, Fastenal. "Fastenal customers will benefit from Walter's product innovations and dedicated technical support."
The agreement is effective immediately and adds to the expansion of Walter's private label operations in the Americas, as well as additional opportunities for Walter brand sales growth in metalworking markets in the United States.
Related Glossary Terms
metalworking


metalworking

Any manufacturing process in which metal is processed or machined such that the workpiece is given a new shape. Broadly defined, the term includes processes such as design and layout, heat-treating, material handling and inspection.