Published
September 05, 2017 - 09:45am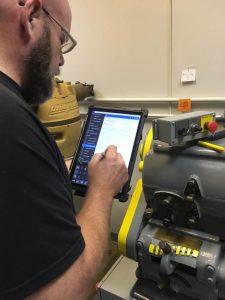 Rockford (Ill.) Systems LLC and Master Lock Co. LLC, Oak Creek, Wis., have a new joint initiative designed to accelerate the adoption of safety technologies throughout the North American manufacturing sector. The companies are teaming up to reduce workplace accidents, improve job efficiencies and help ensure that manufacturers comply with the latest machine-guarding and lockout/tag-out standards from the Occupational Safety and Health Administration, the American National Standards Institute and NFPA 79. Even with strict machine and operator safety regulations in place, unguarded hazardous machinery remains a major source of fatalities, amputations and other traumatic injuries at manufacturing plants. According to OSHA, nearly 18,000 machine operators suffer nonfatal injuries each year in the United States. Rockford Systems estimates that more than half the manufacturers in the United States do not comply with critical requirements for machine safeguarding or lockout/tag-out. Master Lock helps facilities create safer work environments and ensure lockout compliance through comprehensive consulting services. The partnership with Rockford Systems enables Master Lock to broaden its services to include machine-guarding assessments and physical safeguarding solutions, providing an end-to-end lockout and machine-guarding solution for customers.
"The combination of Rockford Systems' machine safeguarding expertise and industry knowledge together with the Master Lock Co., which has been a leader in lockout for nearly 30 years with industry-leading expertise, comprehensive consulting services and innovative physical products, will enable our customers to rapidly identify safety deficiencies and deploy machine-guarding and lockout/tag-out solutions," said Rockford Systems CEO Joe Nitiss. "It is exciting to form an alliance with a partner that shares our core values as closely as the Master Lock Co."
Rockford Systems will provide on-site custom safety consulting services using the Machine Safety Assessment Tool, which was developed jointly by the companies. Performed as a stand-alone service or in conjunction with other services, the MSAT helps companies identify situations that place machine operators or maintenance personnel in life-threatening danger because of the absence of machine safeguarding.
"For many of our on-site lockout/tag-out assessments or procedure development projects, our customers also ask for high-quality machine-guarding solutions," said Matt Dudgeon, director of product marketing at Master Lock. "Our partnership with Rockford Systems will allow us to offer one-stop safeguarding solutions to meet all of our customers' needs. We are excited to partner with Rockford Systems because they have been experts at machine safeguarding for over 45 years and are as committed to workplace safety as the Master Lock Co."