Published
July 14, 2015 - 07:00pm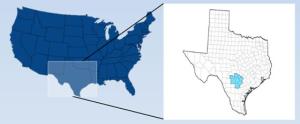 The Alamo Manufacturing Partnership (AMP), led by the University of Texas at San Antonio (UTSA), last week was among 12 groups to receive designation as a manufacturing community through a federal initiative designed to accelerate the resurgence of manufacturing in communities nationwide by supporting long-term economic development strategies.
The initiative, Investing in Manufacturing Communities Partnership (IMCP), encourages communities to develop comprehensive economic development strategies that will strengthen their competitive edge for attracting global manufacturer and supply chain investments, according to the U.S. Economic Development Administration (EDA), a bureau of the U.S. Department of Commerce. IMCP fosters coordination of federal aid to communities with strong development plans and synchronizes grant programs across multiple departments and agencies.
"Non-designated communities nationwide can learn from the best practices employed by these designated communities to strengthen American manufacturing," the EDA website observes.
The 12 designated Manufacturing Communities will receive coordinated support for their strategies with more than $1 billion available in federal economic development assistance from 11 federal agencies, including the Environmental Protection Agency, National Science Foundation, Department of Agriculture, Department of Commerce, Department of Defense, and Department of Housing and Urban Development. More than $1 billion is available in federal economic development assistance.
"As a faculty member of the Center for Advanced Manufacturing and Lean Systems (CAMLS) and mechanical engineering department at UTSA, I am thrilled about the new designation of San Antonio as a manufacturing community," Krystel Castillo, the GreenStar Endowed Assistant Professor of Mechanical Engineering at UTSA, said in a July 14 university news release. "This designation might allow us to access federal funds to conduct research in advanced, integrated and sustainable manufacturing to strengthen San Antonio's economy. Enhancing and facilitating access to workforce training and education will serve as a response to the rapid growth of San Antonio's manufacturing base."
In addition to AMP, the other Manufacturing Community designations announced July 8 went to:
The Greater Pittsburgh Metals Manufacturing Community, led by Catalyst Connection in Pittsburgh, PA
The Louisiana Chemical Corridor, led by Louisiana State University, stretching from New Orleans, LA to Baton Rouge, LA
The Madison Regional Economic Partnership (MadREP) in the Madison, WI region
The Made in the Mid-South Manufacturing Alliance, led by the Greater Memphis Chamber spanning nine counties in surrounding Memphis, TN
The Greater Peoria Economic Development Council leading a five county region in central Illinois
The Minnesota Medical Manufacturing Partnership, led by GREATER MSP in Minneapolis, MN
The South Central Idaho region, led by the Region IV Development Association in Twin Falls, ID
The Utah Advanced Materials and Manufacturing Initiative, led by the University of Utah in the Wasatch Front region
The Pacific Northwest Partnership Region, led by Business Oregon in Oregon and Southwest Washington
The Connecticut Advanced Manufacturing Communities Region, a four county area centered on Hartford, Connecticut, led by the State of Connecticut Department of Economic and Community Development
The Central Valley AgPlus Food and Beverage Manufacturing Consortium, led by California State University in Fresno and the Sacramento Community
Related Glossary Terms
inner diameter ( ID)


inner diameter ( ID)

Dimension that defines the inside diameter of a cavity or hole. See OD, outer diameter.