Published
February 16,2022 - 10:45am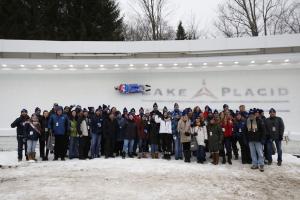 Saint-Gobain Abrasives, one of the world's largest abrasives manufacturers and primary sponsor of the USA Luge Team, celebrated the 40th anniversary of its partnership with the luge team during the Olympic Games in Beijing.
And while the luge team didn't medal during the games, Norton | Saint-Gobain celebrated the anniversary of its partnership with the USA Luge Team by sponsoring several activities such as twenty company watch parties that took place during the games, an Adopt-a-Luge athlete program, and a Luge Challenge event at a New England ski area.
"Our 40-year partnership with the USA Luge Team is a tremendous, continually evolving collaboration that enables employee engagement opportunities and innovative results in research and development," said Norton | Saint-Gobain's Abby Marschke, executive director of marketing, DIY, System Components and Customer Service, Abrasives, North America. "It's also a unique experience to see our products in action while supporting the fastest sport on ice, and we are excited to host and sponsor the first-ever USA Luge Watch Parties. These parties will allow the families of the athletes and our employees to come together in Lake Placid, NY to watch and celebrate not only the sport of luge, but the athletes behind the sleds and their families."
Marschke continued, "The USA Luge and Norton | Saint-Gobain sponsorship is so much more than just a partnership, we consider ourselves a family. In addition to sponsoring the week-long Watch Parties, Norton | Saint-Gobain will provide monetary support for the athletes' families to attend."
Norton also sponsored its Norton Luge Challenge contest on January 22nd & 23rd, 2022 at Wachusett Mountain Ski area in Princeton, MA where the USA Luge Team allowed the public to try the sport using recreational luge sleds while simultaneously searching for promising young sliders to join the team.
In addition, Norton is continuing its "Adopt an Athlete Program", adopting fifteen USA Luge athletes. These athletes are supported by generous donations by Norton | Saint-Gobain employees from eleven different Norton locations. The goal of the support is to help alleviate some of the cost burdens that the athletes face and give them a chance to focus on their training and competitions. Throughout the year there are opportunities for the athletes to visit Norton sites and meet the employees that are providing their support.
"The success of our athletes is directly tied to the support of Norton | Saint-Gobain," said Gordy Sheer, Director of Sponsorship and Marketing for USA Luge. "This season, we've seen our athletes win medals at several World Cup events in multiple disciplines."
USA Luge athletes Ashley Farquharson of Park City, Utah; Tucker West of Ridgefield, Connecticut; Chris Mazdzer of Salt Lake City, Utah; and Jayson Terdiman of Berwick, Pennsylvania were thrilled to win a silver medal in the season-opening World Cup team relay on November 21st, 2021 in what proved to be a superb dress rehearsal for the team in Beijing.
The relationship between Norton, a brand of Saint-Gobain, and USA Luge, dates back to 1980 when the company began donating Norton® sandpaper products for USA Luge athletes to shape and polish runners on the sleds. Today's USA Luge athletes are very familiar with Norton abrasive products, using them extensively each day to prepare their sleds for racing and sliding on steels made up of a special composition that was identified through the expertise of Norton engineers.
"Our primary focus for helping the USA Luge team is finding the most meaningful ways to reduce sled friction in a wide variety of sliding conditions, fully utilizing our best abrasive products, grinding technology and application experts," said Anne Bonner, Norton | Saint-Gobain's Sr. Product Manager for Coated Abrasives who leads the Norton Technical Development collaboration with USA Luge.
For more information, please visit www.saint-gobain-abrasives.com.
Related Glossary Terms
abrasive


abrasive

Substance used for grinding, honing, lapping, superfinishing and polishing. Examples include garnet, emery, corundum, silicon carbide, cubic boron nitride and diamond in various grit sizes.

grinding


grinding

Machining operation in which material is removed from the workpiece by a powered abrasive wheel, stone, belt, paste, sheet, compound, slurry, etc. Takes various forms: surface grinding (creates flat and/or squared surfaces); cylindrical grinding (for external cylindrical and tapered shapes, fillets, undercuts, etc.); centerless grinding; chamfering; thread and form grinding; tool and cutter grinding; offhand grinding; lapping and polishing (grinding with extremely fine grits to create ultrasmooth surfaces); honing; and disc grinding.