Published
March 28, 2017 - 02:30pm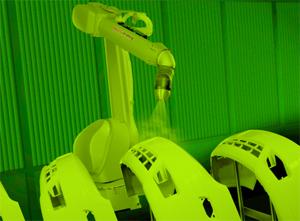 FANUC America has marked the 35th anniversary of manufacturing its line of painting robots at the company's Rochester Hills, Mich., headquarters. In 1982, FANUC America produced its first NC Painter, a hydraulic paint robot using key components from parent company FANUC Corp. in Japan.
Now, 35 years later, FANUC America remains globally responsible for all paint robots and door openers of the FANUC robot lineup, which are sold to a diverse range of industries including automotive, aerospace, agricultural products, recreational vehicles and boats, furniture, appliance, and medical devices. In fact, the company has supplied its U.S.-made paint robots to all of the top 15 global automakers ranked by the International Organization of Motor Vehicle Manufacturers (OICA).
Company President Mike Cicco remarked: "We have dedicated ourselves to 35 years of product innovation and manufacturing efficiencies to provide our customers with the highest quality paint robots that we design, assemble, and integrate here in the U.S. and export to customers around the world. Throughout 2017, we will be taking a look at where we started, what we have achieved, and what our plans are for the future."
FANUC America's U.S.-based product development team designs and implements a wide range of mechanical, electrical, process and software products, including Zero Down Time (ZDT), a cloud-based application that analyzes data collected from FANUC robots, alerting customers of potential issues that need to be addressed before unexpected downtime occurs. "Our local product development team is the industry's largest with hundreds of years of accumulated engineering experience located here in Michigan," added Cicco.
For more information, go to www.fanucamerica.com.
Related Glossary Terms
numerical control ( NC)


numerical control ( NC)

Any controlled equipment that allows an operator to program its movement by entering a series of coded numbers and symbols. See CNC, computer numerical control; DNC, direct numerical control.