Published
April 15, 2016 - 03:15pm
Allied Machine & Engineering Corp., which manufactures holemaking and finishing products for the industrial tool and machining sector, this year celebrates its 75-year history with an eye on the future.
EDITOR'S NOTE: The following report was submitted by Allied Machine & Engineering Corp.
Allied Machine & Engineering Corporation is celebrating 75 years in business, proud of its heritage as a true American innovator and major manufacturer of holemaking and finishing products for the industrial tool and machining sector. But as the company looks back and salutes as the company looks back and salutes its past, it is even more focused on positioning itself for the next century of growth in the machine tooling business, where driving innovation is critical to remaining competitive globally. From its 1941 origins as a manufacturer of parts for World War II vehicles, the third generation family-owned Ohio company has transitioned to an engineering driven company focused on solving the most challenging holemaking and finishing problems. It has also set its sights on attracting and training the next generation of youth to skilled manufacturing, so the proud manufacturing tradition can be carried on for the next 75 years and more.
Allied Machine's early history echoes American history
Allied Machine's 75-year history reflects the spirit of innovation and entrepreneurship found among thousands of US manufacturers, who continue to innovate and find ways to stay competitive in a tough global marketplace.
That history began in 1941, when Harold E. Stokey incorporated Allied Machine & Engineering in New Philadelphia, Ohio. The company leapt into the war effort by making lock nuts and taper sleeve adapters for bearings used in troop carriers and M1 tanks used by Allied forces. Demand for the parts was so critical during the war that Harold Stokey would deliver them to the local airport, where they were flown to other locations for eventual assembly aboard a ship bound for England.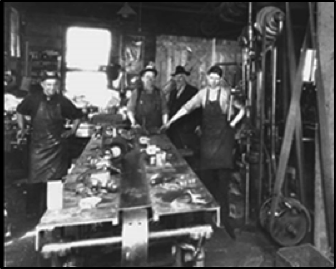 The company struggled somewhat when the war ended, but adapted by manufacturing other products in order to get through the difficult times. During the late 1950s and early 1960s, Stokey searched for a niche product line to manufacture and in 1965 decided that product would be spade drills. That decision is an important piece of family lore, and the story is one current President Bill Stokey likes to tell.
"My father agreed to manufacture spade drills for a northeastern Ohio client who had lost its supplier, as long as Allied Machine would be
their exclusive supplier of raw materials, tooling, and manufacturing blueprints," said Bill Stokey. "We came up with a design for a more effective universal-style spade drill with a replaceable tip.
Unfortunately, the client reneged on the agreement and we were stuck with $30,000 of spade drills. So, with a warehouse stockpiled with inventory, I went door to door to individual customers, offering to grind tools to special outer diameter sizes and show customers how to get more value from spade drill tooling. That approach worked so well that we jumped into the holemaking arena with both feet."
Allied made another leap in the early 1970s, when the company patented the Blade-Loc concept, which protects against tool movement during the drilling cycle.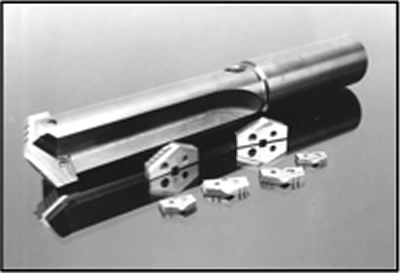 In the 1980s, Allied revolutionized the drilling market by introducing the Throw-Away (T-A®) spade drill, invented by Bill. The invention of the T-A drill was the beginning of a monumental transformation of manufacturing and distributing coated spade drills for industry. Along with the introduction of hard surface coatings, the T-A system brought higher drilling feeds and speeds to the replaceable tip concept. Customers wanting to move away from resharpening drill products found the T-A spade drill a great way to increase productivity and reduce maintenance costs. The product formed the basis of much of Allied's early success.
Around the same time, Allied managers also began championing the use of new technology to drive innovation and maintain their competitive edge. This included using computer numerical controlled (CNC) machines, like a CNC grinder dedicated to grinding spade drills. They also introduced CAD-CAM (computer-aided manufacturing). As early adopters of business computer tools, the company focused on its process/finished inventory, sales, accounts payables, and receivables, allowing them to reassign staff to more productive activities.
Expanding manufacturing footprint to meet demand
The story of the 1980s and 1990s focused a great deal on expanding Allied's manufacturing footprint to meet the rapid growth in demand for the T-A system product line. The company added 53,000 square feet of manufacturing space and 4,000 square feet of engineering space to its Dover, OH location. In 1992 Allied formed a partnership with UK-based Maxcut Ltd. to form Allied Maxcut Engineering Company Ltd. to do business in Europe. Allied now owns the company outright, and while the staff in the UK had always exceeded their European customer's expectations, this change enables those customers to more easily and efficiently access the high quality Allied tooling and application support offered in the US.
To better compete on a global scale, Allied applied for and obtained ISO 9001 certification in 1998. As an ISO-9001-2008 certified company Allied ensures compliance in every aspect, every department, every day. "Putting into place the processes and procedures and subsequently documenting each according to ISO standards has allowed Allied to compete, successfully, on the world stage," said Executive Vice President, Mike Stokey.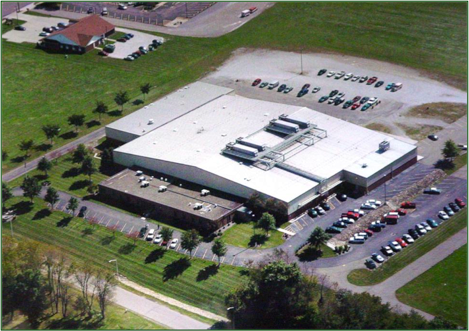 That expansion has continued as Allied added 60,000 square feet of space in 1999, followed by major facility expansions from 2013-2015 that added 61,000 square feet of manufacturing space, offices, cafeteria space, training areas, and research and development space.
21st century products for a new age
Continuing its march through history, Allied advanced the replaceable tip drilling industry in the first decade of the 21st century with the introduction of the second generation of the Throw-Away product (Gen2 T-A®), and the GEN3SYS® high penetration drilling system, both of which are reducing scrap and increasing productivity in manufacturing shops around the world.
Allied has also reinvented the large diameter holemaking market by introducing APX™ drilling products, which can double productivity rates compared to competitive products. With its unique design, the APX drill provides excellent results in previously unmanageable deep hole and large diameter applications on low horse power machines. The APX product has been widely used for large diameter drilling for the wind energy marketplace and in dozens of other industries as well.
Most recent innovations include solutions for drilling carbon fiber material used in the aerospace industry and precision holemaking solutions for tight tolerance applications in the automotive industry.

Recognizing the need to branch out into new areas to remain competitive while continuing its focus on holemaking solutions, Allied moved into the finishing arena to provide customers with solutions for finishing holes in a production environment. In 2004 it began partnering with S.C.A.M.I., a well-established Italian manufacturer of reaming products, and began offering ALVAN® expandable reamers.
Then in 2009, Allied further expanded by incorporating an economical solution into its threadmill product offering through the acquisition of Threadmills USA in Evans, Georgia. Threadmills USA complements Allied's existing products, providing customers with a complete selection for threadmilling applications.
The 2013 purchase of Criterion Machine Works, in Costa Mesa CA, added a boring product line to the company's mix. Since moving Criterion's manufacturing processes to Dover, Ohio, Allied is able to offer a full line of hole finishing products.
"We have to innovate to stay in business, and engineering superiority into our products is key to our future," said Executive Vice President, Steve Stokey. "Using high tech manufacturing equipment, and following lean processes and those that ensure precision we provide a better product at a lower cost per hole. In addition, our emphasis on quality results in tools that last longer and create fewer scrap pieces."
Community leaders with a commitment to training the next generation
No recounting of Allied's 75 years in business would be complete without expressing their long-term commitment to Tuscarawas County in eastern Ohio. At a recent award ceremony where Tuscarawas County was recognized as the #2 "micropolitan" region in the U.S, Allied Machine & Engineering was specifically acknowledged for its contribution to the region's success. The company has also received several prestigious awards, including the Large Business of the Year Award from the Tuscarawas County Chamber of Commerce and the Smart 50 Award for Business Continuity presented by Smart Business Magazine.
One project especially near and dear to the hearts of Allied's owners is local support for Project Lead the Way (PLTW), a non-profit organization that develops science, technology, engineering, and math (STEM) curricula for use by elementary, middle, and high schools. Chairing a task force of local business leaders and educators, Steve Stokey helped launch PLTW in Tuscarawas County. Stokey says he is passionate about manufacturing in America and looked to PLTW to encourage middle and high school students to pursue a career in engineering. Along with Allied, local businesses and foundations contributed more than $700,000 to launch the program. Last year more than 150 students presented their own STEM projects at the annual PLTW showcase and community support for the program now exceeds $1.5M. In addition, Allied brings in more than 30 student interns each summer to introduce them to the high skilled jobs available in today's manufacturing sector.
In the past 75 years, Allied has grown from its founders' garage to a global company with two manufacturing facilities in Ohio, a location in the UK, and distributors all over the world. With an abiding core mission of providing the world with practical and dependable holemaking and finishing solutions, Allied intends to spend the next 75 years and more investing in their Associates, new technologies, better equipment, and improved work facilities.