Author
William Leventon
Published
April 15, 2022 - 04:00pm
If you think that you have more important things to do than perform the recommended maintenance on your CNC machine, think again.
"Even the simple daily checks can lead to findings that could prevent catastrophic failures," said Brad Cooper, service manager at Farmington Hills, Michigan-based Star Cutter Co., a maker of cutting tools and tool grinders. "This equates to less downtime, less scrap and better-quality parts."
A little maintenance can make a lot of difference. With delivery times for parts becoming longer due to the supply chain issues that companies worldwide have been facing, preventing the failure of a part by conducting an easy daily inspection could prevent weeks or even months of machine downtime, he said.
Shops needn't be concerned about the amount of downtime required for maintenance. Adequate machine maintenance can be done in as little as 30 minutes a week, said Bryan O'Fallon, product specialist at Haas Automation Inc., a machine tool builder in Oxnard, California.
Nevertheless, he said, "the temptation is to just run until something happens to the machine and then deal with it. But we've shown here over 20-something years that the amount of downtime you have to perform the maintenance is much less than the downtime you have when something breaks because you didn't perform the maintenance."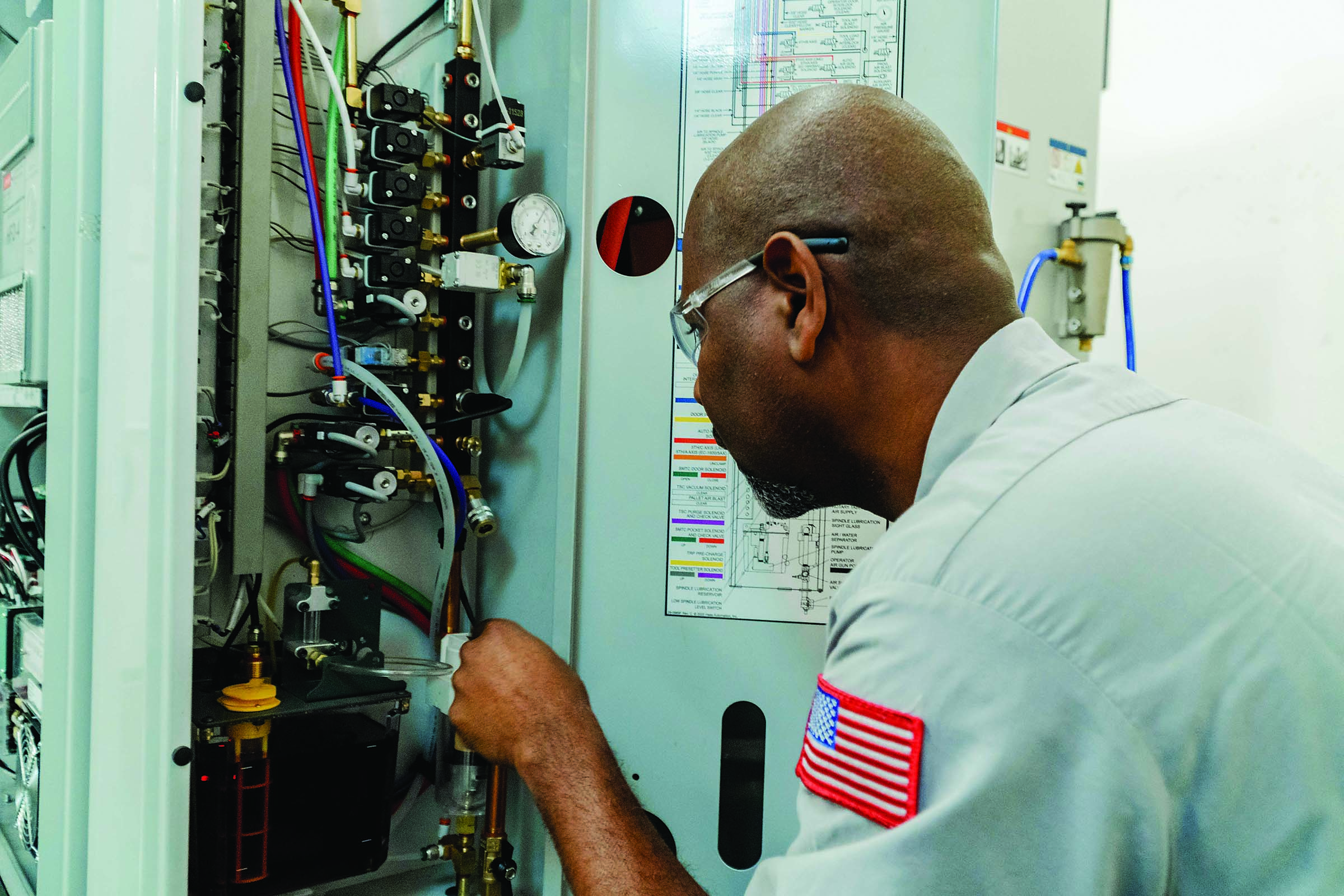 Today, those wishing to stay on top of machine maintenance are aided by a variety of tools and technologies aimed at making the job easier. For example, most machines now are equipped with sensors that trigger an alarm if the grease or oil level is low, said Orville Collins, service engineer at Haas Automation. But he advises not letting things get to that point. The reason is that the alarm could come at a bad time — say, when the machine is in the middle of cutting a mold.
If that happens, "chances are you could end up damaging that mold," he said.
Best Practices
To keep things running as they should, there's no way around regular maintenance procedures. Collins recommends that a number of them be performed first thing every morning, including making sure that machine spindles are warmed up properly, air lines are cleaned out and the coolant level, pressure and concentration are correct.
In addition, O'Fallon stresses the importance of flushing chips out of machines. If this isn't done, he said chips will get into all sorts of places they shouldn't and cause damage and rusting.
"So I would say the single most important thing to do is to clean the machine at the end of the day," he said.
As for less frequent maintenance, fluid lubrication — grease for the ways and oil for the spindle — should be checked at least monthly.
"If you run out of oil for the spindle, you can burn up the bearings and kill the spindle," O'Fallon said. "If you run out of grease for the ways, you can (damage) linear guides and ballscrews, which are very expensive."
Whether shops are performing only the required level of machine maintenance or wish to go beyond that, Cooper said they need to document the maintenance and train their people to properly perform it. Another good practice is to use visual aids that show operators what needs to be checked and describe the procedures for making the checks.
"That is what I see in a lot of shops that are doing proper maintenance," he said. "It makes it a lot easier on maintenance staff and
operators."
The pictures and descriptions can be placed on the machine next to the operator station and in pneumatics and electrical cabinets.
Once a maintenance plan has been developed, Cooper also recommends "automating" the plan so it becomes routine. This can be done using an enterprise resource planning system that on a weekly or monthly basis triggers the creation of a report that reminds the staff to perform the required maintenance and update the system with the latest maintenance information.
Recent Developments
In addition to good maintenance practices, shop floor operations can get a boost from recent developments that help keep machines in good working order. For example, machines made by GF Machining Solutions LLC in Lincolnshire, Illinois, eventually force machine users to perform critical maintenance. To ensure that the spindle has enough oil, for example, the machine at first will inform the operator when the oil level in the container is becoming low.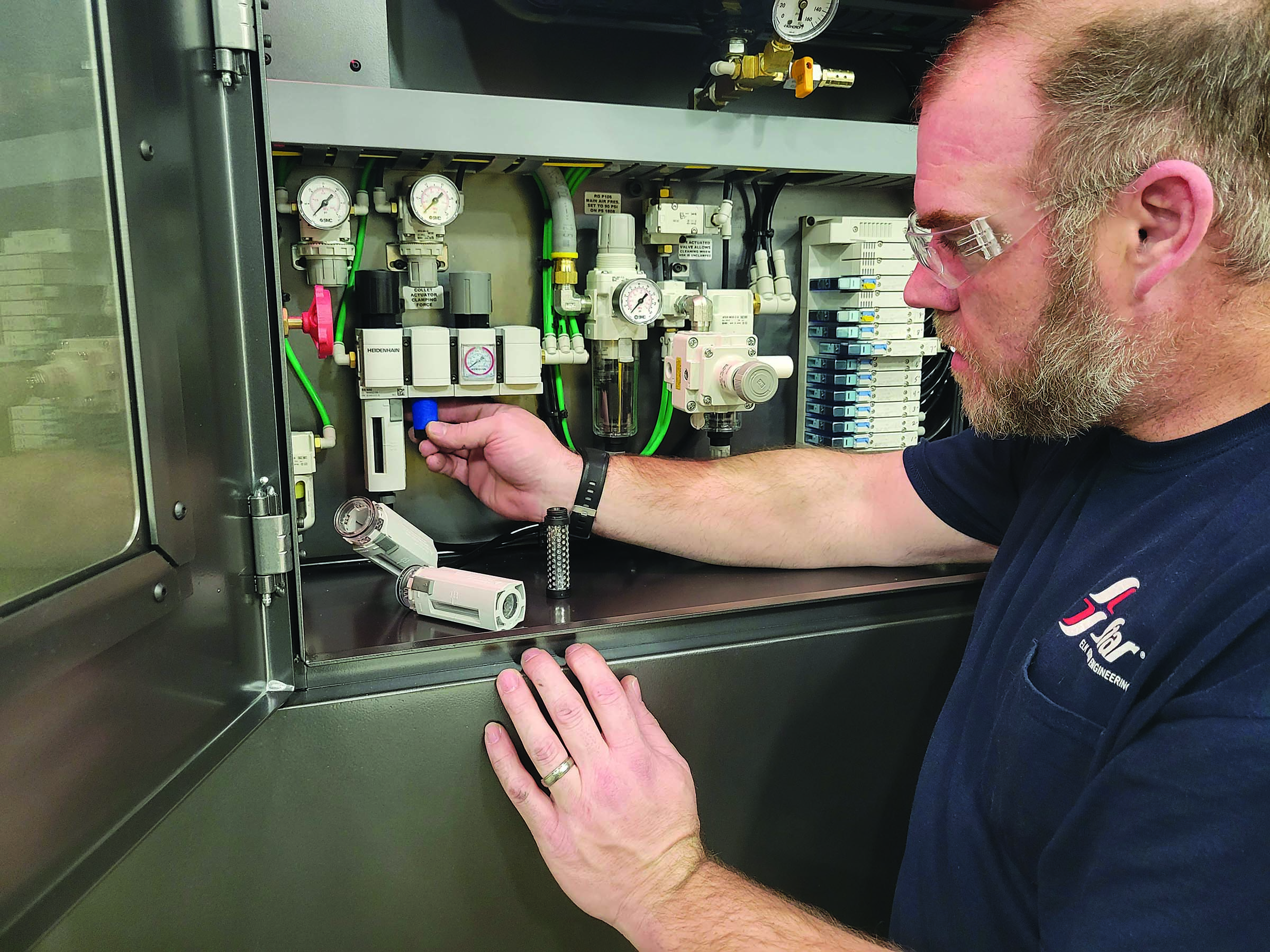 If the required maintenance isn't done in a certain amount of time after that, the machine "will alarm you out completely and lock you up so that you don't destroy your spindle," said Eric Ostini, head of business development.
GF Machining Solutions also has changed the alarm systems on its machines to better inform operators about problems that arise and what kind of maintenance needs to be performed to solve them. For one thing, the alarm messages have been made clearer.
"Sometimes in the past, our alarm messages were vague or, worse yet, they would just say, 'Contact GF,'" Ostini said. "So you never knew what the problem was."
In addition, some of the company's machines now have a look-up feature that allows operators to enter identifying alarm information into the machine control, which then tells them what caused the alarm and how to fix the problem based on what is known about that type of alarm. If a maintenance procedure will solve the issue — for example, perhaps a sensor needs to be cleaned — the operator is able to click on a link to bring up a step-by-step process for properly cleaning the sensor.
If that doesn't correct the problem, Ostini said the operator can call on a "virtual service engineer" by using GF Machining Solutions' rConnect system. Consisting of software and a laptop camera or cellphone, rConnect makes it possible for a service engineer from GF Machining Solutions to access a machine and see what rConnect's camera sees. If the remote service engineer suggests a procedure for fixing the situation, the camera also allows the service engineer to watch and provide guidance while the operator performs the process.
At Haas Automation, O'Fallon said much has been done to enhance the "gauge page" that can be accessed using the company's machine controls. Parameters that now can be monitored by machine users include air pressure, coolant level, incoming power and spindle motor temperature.
"Just quickly glancing at these throughout the day can be really helpful," he said.
Haas Automation also prides itself on the amount of maintenance information that it shares online. Collins said other machine manufacturers are getting into the act as well by beefing up their online presence.
"That's been a huge change because in the past a customer would have no choice but to call their distributor" if a problem arose, O'Fallon said. Now, though, with offerings like maintenance videos and troubleshooting guides becoming plentiful on the internet, "there are so many ways for a customer to go online and figure it out themselves if they choose to."
And more machine users than ever are doing just that, especially younger ones who "expect to be able to pull their phone out of their back pocket and find the information they need," he said. "So that's what our direction has been for the last several years."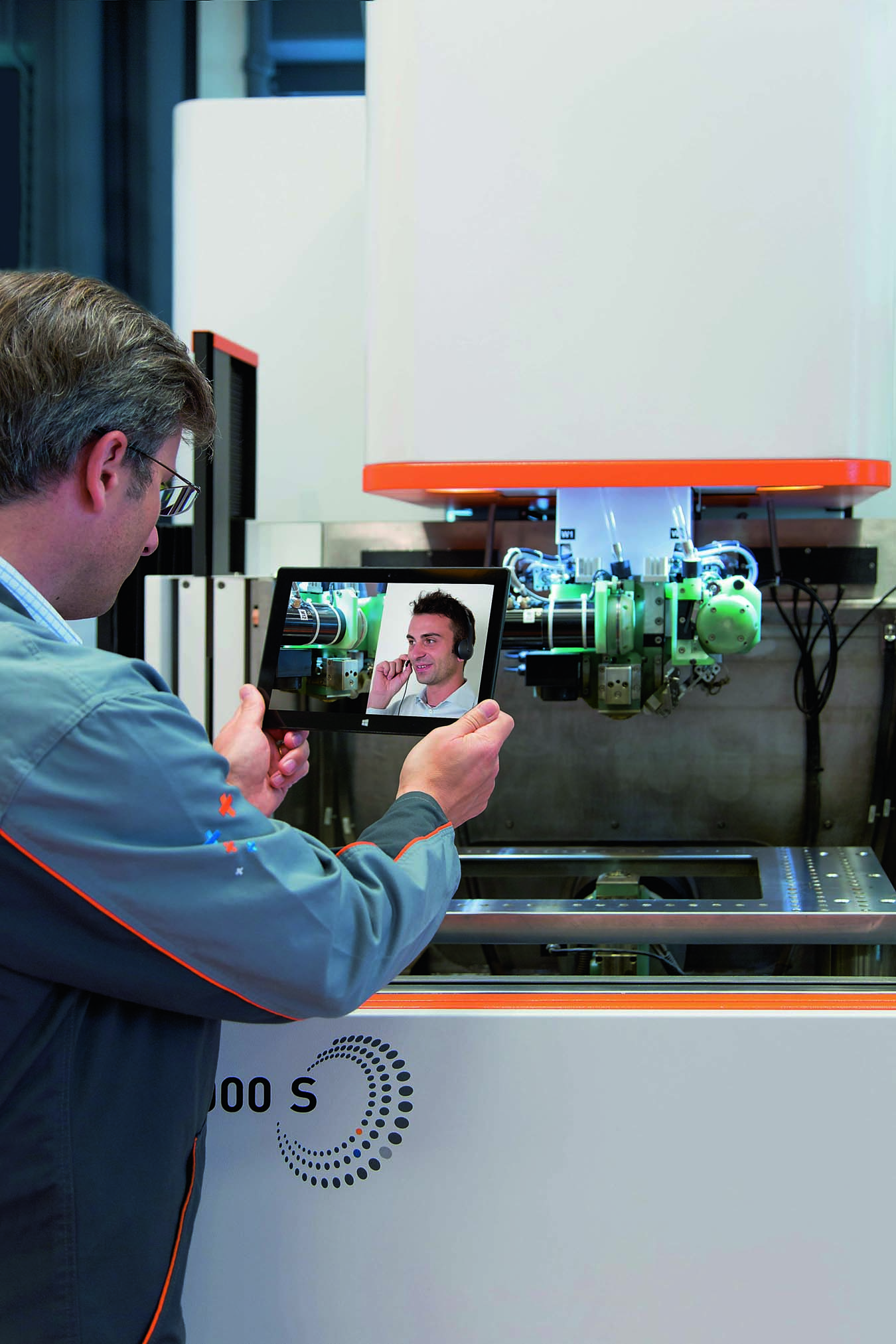 Another result of this effort is the rollout of Haas Automation's service app, which currently is undergoing beta testing before becoming available to customers. Instead of general maintenance content, the idea is to provide maintenance and troubleshooting information tailored to exact machines at a user's shop. Using a cellphone, for example, a customer can enter a machine's serial number and see the entire service history of that machine.
Trendy Technologies
Other maintenance-related advances are tied to technologies that have been much in the news of late. Although not yet widely adopted in the machining industry, for instance, Cooper believes that augmented reality technology soon will play a role in more machine
maintenance processes. The technology features special glasses that allow wearers to see an informational overlay, as well as their
surroundings.
"It's like wearing a pair of normal glasses that you can see through," he said, "but there's an overlay that's transparent."
For example, Cooper could use the overlay to provide visual guidance and instructions to a wearer performing a maintenance procedure on a machine. The glasses also would allow him to see what the wearer sees.
"The hardware is relatively inexpensive, so (the technology) is very attainable for even smaller shops," said Cooper, who is working on an augmented reality process for Star Cutter. "It's just a matter of making sure the hardware will work seamlessly with a software platform that will allow us to accomplish (the required) tasks."
Another development on the machine maintenance front that employs newsmaking technology is the use of 3D printers to
produce temporary plastic parts. If a small bracket that holds a regulator breaks, for instance, a 3D printer can print a replacement that will hold up for a short period of time under conditions that aren't overly demanding.
"These things aren't going to be able to take a substantial amount of load," said Cooper, who has seen such parts at a number of shops.
But he said the process of printing these parts is relatively fast.
And by employing one of them, "you may be able to limp a machine by until you can get the actual OEM part," Cooper said.
---
For more information from Haas Automation about daily machine maintenance, view a video presentation at cteplus.delivr.com/2jjmx
Related Glossary Terms
computer numerical control ( CNC)


computer numerical control ( CNC)

Microprocessor-based controller dedicated to a machine tool that permits the creation or modification of parts. Programmed numerical control activates the machine's servos and spindle drives and controls the various machining operations. See DNC, direct numerical control; NC, numerical control.

coolant


coolant

Fluid that reduces temperature buildup at the tool/workpiece interface during machining. Normally takes the form of a liquid such as soluble or chemical mixtures (semisynthetic, synthetic) but can be pressurized air or other gas. Because of water's ability to absorb great quantities of heat, it is widely used as a coolant and vehicle for various cutting compounds, with the water-to-compound ratio varying with the machining task. See cutting fluid; semisynthetic cutting fluid; soluble-oil cutting fluid; synthetic cutting fluid.