August 01,2015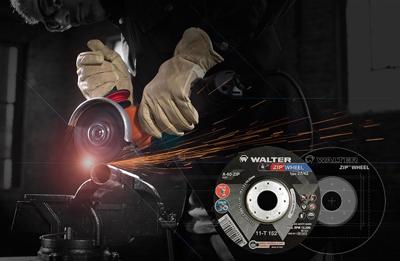 Walter Surface Technologies has extended its product portfolio of exclusive narrow-crown patented technology to all 4½" and 5" ZIPCUT, ZIP+, ZIP Stainless and ZIP ALU cutting wheels. The Type 27 narrow crown patented technology incorporates an improved, refined metal cladding in the center hub which maximizes on safety and allows operators deeper cutting depth. The new technology extends the life of the cutting wheel, allowing for more cuts per unit.
"The new technology gives operators unparalleled performance," said Marc Brunet-Gagne, Product Manager at Walter Surface Technologies. "By maximizing the safety in cutting wheels, companies can benefit from added work safety, while also benefitting from reduced annual costs in wheel consumption and wheel changeover."
With the new Type 27 narrow crown technology, operators benefit from the best performance available. The narrow crown combines the extended life of a flat Type 1 wheel, with the extra stiffness of a depressed center cutting wheel. The metal cladding also maximizes safety by preventing contact with the work piece which increases worker's safety when cutting into metal applications.
The Type 27 narrow crown technology is available now for all 4½" and 5" ZIPCUT/ZIPWHEEL, ZIP+, ZIP Stainless and ZIP ALU cutting wheels.
Related Glossary Terms
flat ( screw flat)


flat ( screw flat)

Flat surface machined into the shank of a cutting tool for enhanced holding of the tool.

stiffness


stiffness

1. Ability of a material or part to resist elastic deflection. 2. The rate of stress with respect to strain; the greater the stress required to produce a given strain, the stiffer the material is said to be. See dynamic stiffness; static stiffness.