July 18, 2023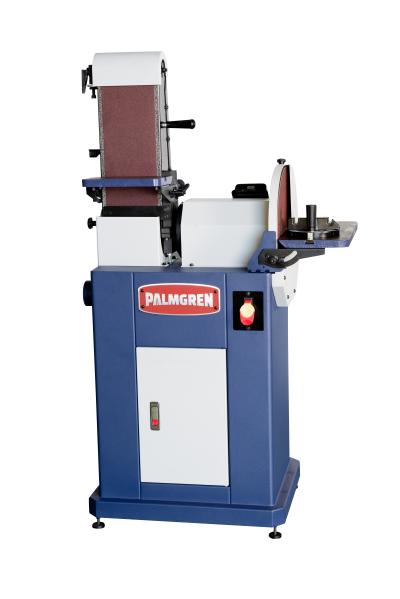 Delivering exceptional versatility and high efficiency, the Palmgren Combination 6 x 14-inch Finishing Machine is designed to meet the needs of the end-user. What differentiates this machine from the competition is its overall design which was built around actual user feedback.
The combination finishing machine is really two machines in one because it can handle a multitude of jobs that include contour part finishing, flat stock finishing, polishing, grinding and deburring—virtually any finishing operation. The belt arm adjusts vertically, horizontally and any position in-between. The belt section is mounted directly to the motor shaft and the graphite pad is replaceable. The machine features advanced easy belt tracking and quick, easy belt changes.
The #9681108 Combination Belt & Disc Finishing Machine from Palmgren features a powerful direct drive power train, an adjustable guard for both the belt and disc sections and a single dust collection port for both sections for easy connection and cleaning.
Related Glossary Terms
flat ( screw flat)


flat ( screw flat)

Flat surface machined into the shank of a cutting tool for enhanced holding of the tool.

grinding


grinding

Machining operation in which material is removed from the workpiece by a powered abrasive wheel, stone, belt, paste, sheet, compound, slurry, etc. Takes various forms: surface grinding (creates flat and/or squared surfaces); cylindrical grinding (for external cylindrical and tapered shapes, fillets, undercuts, etc.); centerless grinding; chamfering; thread and form grinding; tool and cutter grinding; offhand grinding; lapping and polishing (grinding with extremely fine grits to create ultrasmooth surfaces); honing; and disc grinding.

polishing


polishing

Abrasive process that improves surface finish and blends contours. Abrasive particles attached to a flexible backing abrade the workpiece.