May 25,2022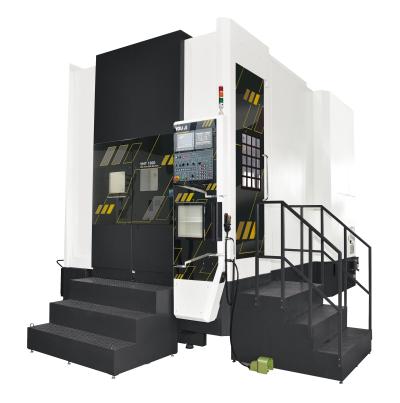 Absolute Machine Tools has added the You Ji VMT Vertical Mill/Turn Center Series to its extensive line of large Vertical Turning Lathes by You Ji (Kaohsiung City, Taiwan). Combining vertical and horizontal 5-face milling with vertical turning capabilities, the You Ji VMT provides 5-sided or 4+1-axis milling and turning of medium-sized workpieces in a single setup. Standard turning diameter and maximum turning height are 39.4" (1000 mm). The 30-hp double-wound Fanuc P Series main spindle motor delivers more torque at a lower RPM than a 50-hp single-wound motor. It's powered by a 2-speed ZF planetary gearbox spindle drive. The 20-hp 50 taper milling spindle produces high torque.
The vertical column and base are made from heavily ribbed Meehanite castings that minimize thermal distortion and dampen vibration. Smooth operation is virtually guaranteed complements of enclosed X-, Y- and Z-axis box guideways featuring hand-scraped mating surfaces, Turcite-B coatings and forced lubrication. The VMT's simple design eliminates belts and gears in all three axes instead relying on servo motors to drive large 2"-diameter Class-3 precision ballscrews during operation. A fixed turning spindle and 3-axis moving column provide optimal chip removal and simplified operation.
"The You Ji VMT-1000+Y features a large 29.5" (750mm) Y-axis travel," said Chief Marketing Officer Nicole Conrad. "A standard 24 tool arm-type ATC with 55 lb. tool weight capacity makes this machine a perfect offering for our aerospace and energy industry customers."
Related Glossary Terms
gang cutting ( milling)


gang cutting ( milling)

Machining with several cutters mounted on a single arbor, generally for simultaneous cutting.

milling


milling

Machining operation in which metal or other material is removed by applying power to a rotating cutter. In vertical milling, the cutting tool is mounted vertically on the spindle. In horizontal milling, the cutting tool is mounted horizontally, either directly on the spindle or on an arbor. Horizontal milling is further broken down into conventional milling, where the cutter rotates opposite the direction of feed, or "up" into the workpiece; and climb milling, where the cutter rotates in the direction of feed, or "down" into the workpiece. Milling operations include plane or surface milling, endmilling, facemilling, angle milling, form milling and profiling.

turning


turning

Workpiece is held in a chuck, mounted on a face plate or secured between centers and rotated while a cutting tool, normally a single-point tool, is fed into it along its periphery or across its end or face. Takes the form of straight turning (cutting along the periphery of the workpiece); taper turning (creating a taper); step turning (turning different-size diameters on the same work); chamfering (beveling an edge or shoulder); facing (cutting on an end); turning threads (usually external but can be internal); roughing (high-volume metal removal); and finishing (final light cuts). Performed on lathes, turning centers, chucking machines, automatic screw machines and similar machines.