October 09, 2021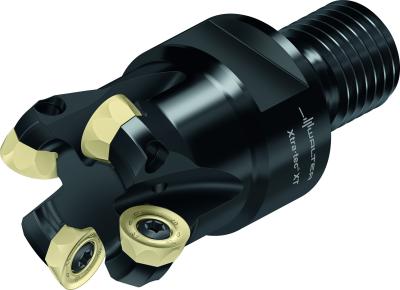 Walter has introduced the Xtra·Tec® XT M5468 round insert milling cutter, a universal system for copy, face, ramping, pocket, and circular interpolation milling. The versatile Xtra·Tec® XT M5468 is suitable for steel, stainless steel, cast iron, non-ferrous material with difficult cutting properties, and hard machining. It is ideal for copy milling with minimal material removal.
The Xtra·Tec® XT M5468 provides protection against twisting and cutting-edge rotation due to the eight facets on its indexable inserts. It also yields maximum productivity thanks to its ability to support optimum cutting data and promote long tool life, as well as maximum process stability due to the indexing of the indexable inserts using facets. This oversized milling cutter, which handles machining operations on deep shoulders, is easily adaptable to various machining operations due to its variety of indexable insert sizes and geometries. A high level of flexibility is enhanced by a cylindrical modular interface that permits its use in existing adapter systems.
The Walter Xtra·Tec® XT M5468 also accommodates ScrewFit, Weldon shank, and shell mill mount interfaces. Its universal adaptability promotes lower tool costs and reduced time and labor, and a high level of cost efficiency results from both the Tiger·tec® cutting tool materials and higher number of teeth. Available insert variants are fully sintered, and fully ground circumference. Diameters range from 1-4-in. (20-100 mm), and there are two pitches for different applications. Areas of use include die and mold, general metalworking, and the energy industry, among others.