July 07, 2022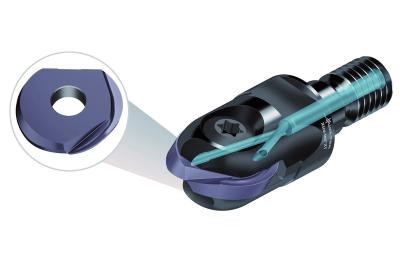 Walter has introduced the Xtra·tec® XT M5460, a new profile milling cutter that delivers maximum precision, tool life, and surface quality in precise machining of freeform surfaces and deep cavities.
This new profile milling cutter now provides an internal coolant channel, enabling chip evacuation using compressed air or MQL. This is necessary for deep pockets as it allows the user to evacuate the chips.
The Xtra·tec® XT M5460 has been specially designed for difficult materials, particularly for hard machining of steels up to 63 HRC. Alongside the proven geometries of Walters P3201 and P3204 indexable inserts, Walter is now offering these strong inserts in our newest grade WHH15X for hard machining. In field tests, the new M5460 with this latest grade WHH15X, achieved increases in tool life of up to 500%.
Thanks to the addition of this new grade to the existing range of cutting tool grades and geometries, this profile milling cutter is proven to be very effective in Steels (ISO P), Cast Irons (ISO K), Stainless Steels (ISO M) and Hard Materials (ISO H). This means that, in addition to mold and die making, it also offers advantages for the aerospace and energy industries with its high productivity, maximum process reliability, and cost effectiveness.
Walter offers the Xtra·tec® XT M5460 with both Weldon and cylindrical shanks, as well as with the industry standard cylindrical modular interface.
Walter is initially launching the milling cutter for diameters: 3/8 -1 in. and in metric from 8-32 mm.