February 16, 2021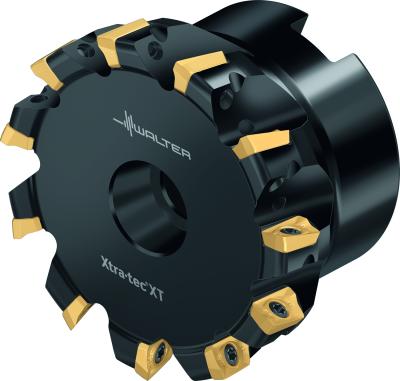 Walter has expanded the popular offering for one of its newest milling families, the Xtra·tec® XT M5130 shoulder milling cutter. Many of the design features focus on making the tool body more productive by increasing the strength. In addition, it also features a new mounting position for the inserts and 17% more teeth.
These enhancements to the Xtra·tec XT M5130 milling cutter, including a new clearance angle of 7° have added to this universal tool's existing benefits of high performance, high surface quality, exceptional reliability and safety, and outstanding versatility. The M5130 handles a wide array of machining operations including face, shoulder, ramping and pocket milling, as well as circular interpolation operations. This versatile mill is well suited to machining steel, stainless steel, cast iron, non-ferrous material and materials with difficult cutting properties.
This wide range of applications results in lower tooling and administrative costs, as does the fact that its 90° approach angle dramatically decreases the need for finishing operations.
The Xtra·tec® XT M5130 Shoulder Milling Cutter features two pitches for different applications, and a stable cross section due to the modified installation position of the indexable inserts. Available in diameters of 0.5-6.0 in. (10-160 mm), and geometries: F55, an exceptionally stable geometry; G55, a universal grade for medium machining conditions; K55, a light cutting geometry; and M85, for aluminum machining, low cutting forces, and sharp cutting edges.