January 13, 2021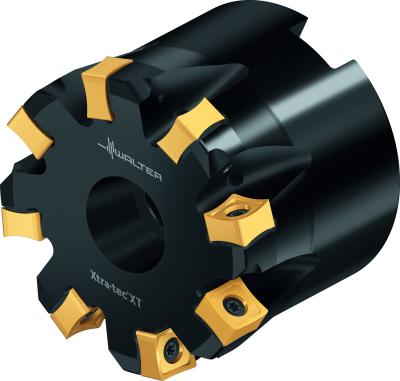 Walter has introduced the Xtra·tec® XT M5012 face milling cutter, a productive and versatile new face mill with an 88° approach angle The mill, available in diameters of 32-100 mm, is part of Walter's next generation of milling tools called Xtra·tec® XT, that delivers increased productivity and process reliability. This new tool is ideal for steel, cast iron, stainless steels, difficult to machine, and non-ferrous materials. The M5012 is used in face milling, roughing and rough finishing operations with wiper inserts.
In fact, with the Xtra·tec XT M5012, additional finishing operations can usually be avoided. The mill can also be used on less powerful machines due to its positive soft cutting action. It permits maximum feeds, tool life and productivity thanks to its small indexable inserts with a high number of teeth and a large depth of cut. These tough double-sided, universal, indexable inserts in either Walter Tiger·tec® Silver or Tiger·tec® Gold permit maximum feeds, tool life and contribute to a high level of stability – ideal for small machining allowances and variable conditions. There is easy handling thanks to its accessible clamping screw at an angle, preventing typical assembly mistakes.
The new Xtra·tec XT M5012 is highly cost-effective thanks to inserts being offered in a fully ground configuration for maximum precision, or fully sintered configuration for maximum cost efficiency. The bodies are offered in either ScrewFit or shell mount and with two pitches for different applications.