December 14, 2021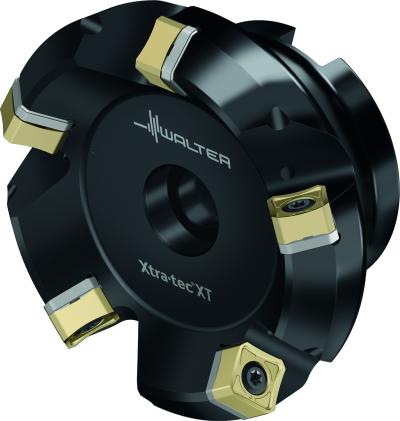 Walter has introduced the Xtra·tec® XT M5009 face milling cutter for face milling, roughing, and rough finishing with wiper inserts on steel, stainless steels, materials with difficult cutting properties, and non-ferrous metals.
With its small, tough, double-sided SN X0904 or SN X1205 indexable inserts and high number of teeth the M5009, is able to maximize feeds, tool life, and productivity, and boost process reliability while also reducing cutting tool material costs.
Its high level of stability makes it ideal for minimal material removal and variable conditions. In addition, its positive soft cutting action permits it to be used on less powerful machines, and it can boast superior handling thanks to an easily accessible clamping screw at an angle which prevents typical installation mistakes.
The Walter Xtra·tec® XT M5009 face milling cutter has a 45° approach angle, is available in diameters of 25-160 mm (1-6 in.) and provides a depth of cut of 5 or 6.5 mm. It features three pitches for different applications (tools with wide and medium pitch for insert size SN X1205 are designed with carbide shim), and either ScrewFit or shell mill mount interfaces.