March 18, 2020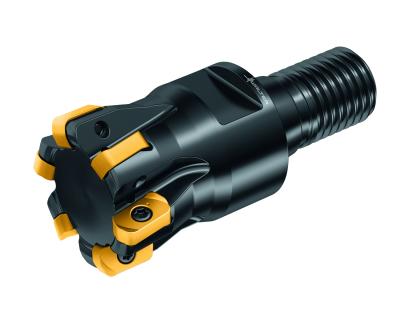 Walter has launched the new Xtra·tec XT M5008, an indexable high-feed milling cutter in the diameter range of 5/8–2½ in. (16–66 mm) that permits high feed per tooth at low axial depths of cut. Application areas range from pocketing, grooving and surface machining. A wide variety of grades and chipbreakers are available so that it can be used universally for steel, stainless steels, as well as cast iron and hard materials with difficult cutting properties.
With its shallow approach angle, and low radial load on the tool, plus a short and stable peripheral cutting edge, it boasts enhanced stability and process reliability. Vibration tendency is reduced for long tools. Tool life is enhanced by its use of wear-resistant Walter Tiger·tec coating material. Whether the Xtra·tec XT M5008 is configured with a shell mill mount, a parallel shank or a ScrewFit exchangeable head, its end-face geometry is specially developed for high material removal rates.
These high-feed tools incorporate a new insert design which allows more teeth in a given diameter for increased productivity. This makes them well suited for die and moldmaking, as well as for the aerospace, energy and medical device industries.