November 12, 2021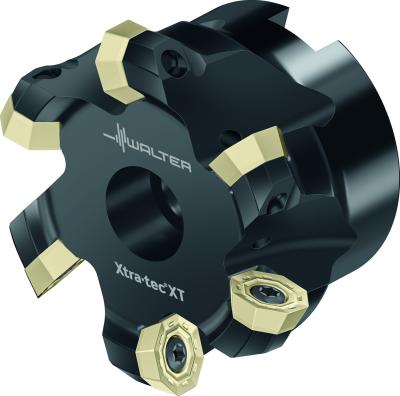 Walter has introduced the Xtra·tec® XT M5004 octagon milling cutter, a versatile new milling tool that combines productivity with stability. A superior choice for face milling (roughing and finishing), ramping, pocket milling, and circular interpolation, as well as chamfering and back chamfering, this new tool is ideal for steel, stainless steels, cast iron, non-ferrous metals, and materials with difficult cutting properties.
As Part of Walter's new generation of Xtra·tec® XT tools the M5004 octagon milling cutter combines efficiency and process reliability while also extending tool life, resulting in maximum productivity. Process reliability is enhanced thanks to the new tool's high stability. Lower tool costs and reduced time and labor result from its universal usability and no need for additional finishing operations.
In addition, maximum cost-efficiency is gained thanks to Tiger·tec® cutting tool materials, a high number of teeth, and low cutting tool material costs. The eight-cornered positive indexable inserts with eight cutting edges and two indexable insert sizes, with corner radius or facet variants, come with fully sintered circumference (ODMT or ODMW) or fully ground circumference (ODHT or ODHW).
The Xtra·tec® XT M5004 can be adapted to specific machining operations due to different indexable insert sizes, corner designs and geometries. The tool has a 43° approach angle, a depth of cut of 3 or 4 mm, three pitches for different applications, diameters of 32-170 mm or 2.00-3.00 in., ScrewFit, cylindrical-modular interface, cylindrical shank and shell mill mount. It is finding ready acceptance in the energy and die and mold industries, as well as general metalworking