September 01,2014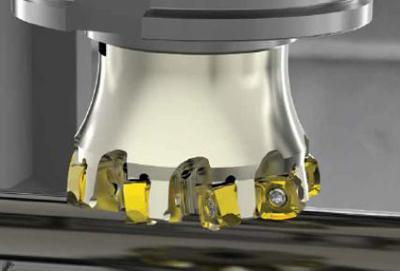 Late last year, Kennametal finalized its acquisition of the tungsten materials business from Allegheny Technologies Inc., including the full line of Stellram metalworking tools (formerly ATI Stellram). Now the full platform of Stellram products, with solutions specifically tailored to support energy, aerospace, transportation and other vital industries, are available as part of the Kennametal portfolio.
Driven by Kennametal's commitment to "Different Thinking is Better Thinking," the Stellram group of products include such production-enhancing milling technologies such as the 7792 and 7793 high-feed milling cutter systems and the 5230 Chevron long-edge mill cutter system, along with X-Grade carbide insert technology. High-performance materials such as titanium and other low-weight/high-strength alloys of particular interest to the aerospace industry are the materials of choice for these proprietary cutter designs, inserts, and grades.
The Stellram 7792 and 7793 milling cutters direct cutting forces axially into the spindle, lessening spindle wear and improving machining stability. Both modern and older equipment benefit from this cutting tool technology. These Stellram face mills operate at shallow depths of cut and very high feed rates, resulting in metal-removal rates up to 5 times greater than conventional cutters. In addition to high-feed face milling, the 7792 is capable of pocketing, slotting, and plunging.
High-feed milling nserts are available with proprietary Stellram X-Grade technology. X-Grade technology uses ruthenium as a key ingredient, combined with a cobalt binder, for superior thermal-cracking and propagation resistance. The results are metal-removal rates up to three times higher than conventional cutting tools and longer tool life.
X-Grade inserts are available in a variety of styles for a variety of applications. X-Grade inserts are also designed to yield the highest levels of material removal rates in high-performance materials like titanium as well as other difficult-to-machine alloys such as nickel-based alloys, cobalt-based alloys and titanium-based alloys used extensively in aerospace and energy Markets.
The Stellram 5230 Chevron long-edge milling series of inserts and cutters work together to provide substantial reductions in machining time for titanium and other high-strength alloys. The advanced chevron insert design ensures that one cutting point is always in contact with the work material during entrance and exit. Single-line contact on the cutter body means no two inserts are contacting the workpiece on the same axial plane. Together this provides optimum harmonic stability, reducing power consumption and maximizing tool life.
Additionally, threaded coolant ports on the cutter body allow selective blocking to adjust pressure and volume. Each insert has its own coolant jet for optimum chip evacuation.