January 01, 2011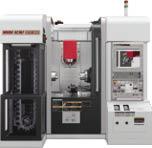 DMG/Mori Seiki USA's X-Class machine has a thick, high-rigidity bed with X- and Z-axis linear guides in a high position, and a spindle with large-diameter bearing. The machine has a heat-symmetrical structure that disperses heat evenly, and coolant circulation inside the casting to minimize thermal displacement. Available in a variety of models, it uses LED lighting and a hydraulic unit equipped with an accumulator.
Related Glossary Terms
coolant


coolant

Fluid that reduces temperature buildup at the tool/workpiece interface during machining. Normally takes the form of a liquid such as soluble or chemical mixtures (semisynthetic, synthetic) but can be pressurized air or other gas. Because of water's ability to absorb great quantities of heat, it is widely used as a coolant and vehicle for various cutting compounds, with the water-to-compound ratio varying with the machining task. See cutting fluid; semisynthetic cutting fluid; soluble-oil cutting fluid; synthetic cutting fluid.