March 25, 2023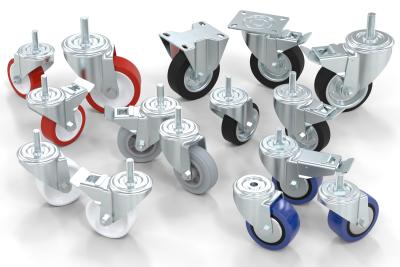 WDS Components has extended its range of castor wheels to increase design flexibility for OEMs and to enhance retrofit options for end users. The UK-based component and standard part specialist has optimised its range with new sizes and styles to suit a variety of applications, from industrial machinery to the hospitality sector. High volume stock is available and full CAD data and product information is available online to enhance ease of specification and design integration.
WDS Components' castor range extension includes a new stud fitting design with an M12 size threaded shaft that extends installation flexibility. The stud fitting design joins the existing bolt hole style, as well as a variety of castors with a plate fitting attachment. The castor design also includes a swivel wheel action, making them easy to operate across various surface types, as well as a foot-operated brake mechanism.
The WDS castor range is available in various materials to suit a wide variety of environments, balancing traction and longevity. Phenolic resin castors offer extreme hardness and provide resistance to very high temperatures. The range also includes nylon castor wheels that are highly durable and retain their shape over time, even against debris and use on rough surfaces. WDS also provides polyurethane wheels that ensure long-term use and are resistant to penetration, as well as rubber wheels, which offer a high level of traction.
For hygienic environments, WDS offers blue castor wheels with stainless steel frames. Ideal for hospitality or health-related applications, the blue design ensures clear visual recognition for cleaning purposes as well as maintenance requirements. The blue rubber outer wheel is secured around a highly durable nylon core, ensuring both traction and longevity. WDS also provides black, white, red, grey, and natural castor wheel finishes to fit the chosen location.
For added durability, castor frames are steel made and comprise a zinc coating. This provides increased resistance to corrosion and enhances ease of care. The castors feature long-life bearings and offer load bearing up to 120kg.
Various models across the WDS castor range are also available in new larger sizes including wheel diameters of 125mm and 160mm, in addition to existing diameters of 80mm and 100mm.
To reduce cost and enhance ease of maintenance, individual replacement castor wheels that can be retrofitted to the castor housing are also available in a variety of styles and sizes.
WDS carries high stock across its castor range, enabling high-volume OEM orders, and many of the items are available under Stock Guarantee. This offer provides 10% discount on a subsequent order if a quantity of the original order cannot be fulfilled. wdscomponents.com also includes full CAD images, enabling fast and simple design integration, as well as full product specification and pricing.
Related Glossary Terms
computer-aided design ( CAD)


computer-aided design ( CAD)

Product-design functions performed with the help of computers and special software.

hardness


hardness

Hardness is a measure of the resistance of a material to surface indentation or abrasion. There is no absolute scale for hardness. In order to express hardness quantitatively, each type of test has its own scale, which defines hardness. Indentation hardness obtained through static methods is measured by Brinell, Rockwell, Vickers and Knoop tests. Hardness without indentation is measured by a dynamic method, known as the Scleroscope test.