September 17, 2018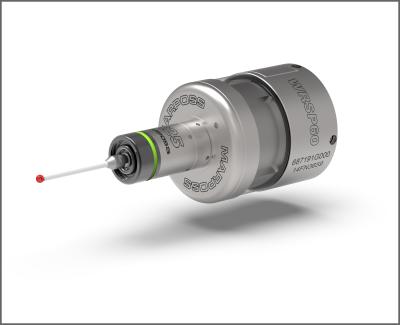 Marposs has announced the availability of its new WRSP60 high-accuracy scanning probes for checking part profiles directly on machining centers and milling machines in real time. Parts can be checked for defects without being transferred to a measurement lab, eliminating the need to reload and reposition the part for any necessary reworking, improving the process and optimizing cycle time.
The WRSP60 probes can be used to check the quality of the part profile, compensate for part misalignment, perform surface deformation checks providing compensation information for the cutting program, perform comparisons with the Master, check the run out, and enable the "touch" necessary for positioning the part; operations that are impossible with touch probes or that would result in greatly increased cycle times.
The system transmits the data via radio to a WRI receiver, using a communication protocol that offers enhanced immunity to interference and reduced power consumption. The data are collected, analyzed and displayed by a proprietary Marposs' software package. The WRSP60 also features a multiple-channel system that enables the same receiver to manage up to 12 systems sequentially, including Marposs WRS part contact probes.
These scanning probes have a transmission range of 15 m, making them well-suited for large machines. They provide measurement performance on 3D surfaces with unidirectional repeatability within 0.4 µm and a better life of 80 hours continuous operation.
Related Glossary Terms
centers


centers

Cone-shaped pins that support a workpiece by one or two ends during machining. The centers fit into holes drilled in the workpiece ends. Centers that turn with the workpiece are called "live" centers; those that do not are called "dead" centers.

gang cutting ( milling)


gang cutting ( milling)

Machining with several cutters mounted on a single arbor, generally for simultaneous cutting.

milling


milling

Machining operation in which metal or other material is removed by applying power to a rotating cutter. In vertical milling, the cutting tool is mounted vertically on the spindle. In horizontal milling, the cutting tool is mounted horizontally, either directly on the spindle or on an arbor. Horizontal milling is further broken down into conventional milling, where the cutter rotates opposite the direction of feed, or "up" into the workpiece; and climb milling, where the cutter rotates in the direction of feed, or "down" into the workpiece. Milling operations include plane or surface milling, endmilling, facemilling, angle milling, form milling and profiling.