November 25, 2019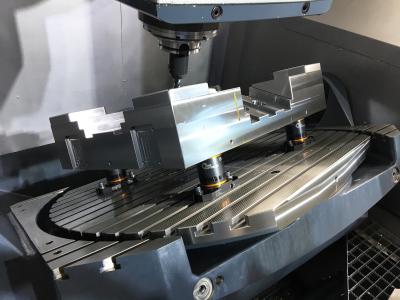 SMW Autoblok introduces the WPS/APS workpiece positioning system featuring manual zero point clamping system used in a variety of machining applications, including turning, milling, inspection and finishing.
Flexible and easy to use, the manual WPS and WPS-PPD workpiece positioning system provides up to a 90% reduction in set up time with no conventional clamping devices required. Greater machine versatility and accessibility, due to a range of accessories and adapters, ensures flexible clamping (without interfering machining or contours) of nearly every workpiece geometry making the product ideal for 5-axis machining. All clamping modules are proofline sealed, greatly reducing maintenance and increasing production time.
"Our new mechanical, hydraulic and pneumatic vices for stationary workholding offer many advantages including being completely configurable in the field," mentioned Larry Robbins, president of SMW Autoblok. "Plus, we are the only company in the world to offer customer support from our service team. This is especially important due to the customization that is often required for special applications including automation."
The WPS/APS is economical and easy to use with multiple ways of fastening the workpiece or fixturing. Features include:
Clamping Pins
Mounting Screws
Reducing Washer
Clamping Modules
Single Quick-Actuation
Adaption Washers
Grid Plate
Custom Engineered Solutions
SMW Autoblok also offers an APS series workpiece positioning system for pneumatic open and closing offered in corrosion-free hardened steel. The APS has an extremely low installation height and offers maximum precision and repeatability to less than 0.005 mm. A special coating on the clamping slides and clamping pins guarantees long-lasting, frictionless operation of the system and an extended service life.
All APS modules are proofline sealed, protected against corrosion, and feature a built-in air cleaning function to ensure that the clamping system's support surface remains clean and free of chips during changeover or automation. A three-pin clamping design features nine die springs for maximum stiffness and clamping force. 140 and 190 APS size pull-in forces for each module can be increased up to 45 kN by the turbo function. Use SMW Autoblok's premium APS system to monitor the clamping device through air sensing.

Highlights of the manual WPS series feature specially designed clamping pins with adapter used for workpiece clamping or top mounting that are case hardened with corrosion-resistant coating. The M12 or M16 mounting screws (also available with our APS series) provide maximum stability and stiffness. Clamping modules offered in 40, 60, 80 and 160 mm heights guarantee the clamping of virtually any workpiece. A special single quick actuation provides modules to be opened and closed by only three and a half rotations. All clamping modules can be mounted on a T-slotted table or grid plate that is manufactured with highly tempered quality steel with a specialized coating to protect against rust and contaminants.