February 07, 2017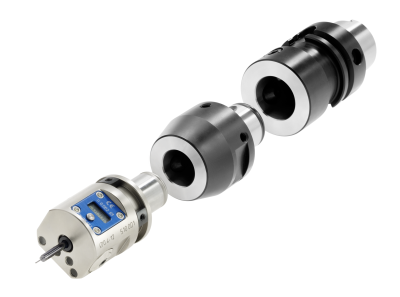 Allied Machine & Engineering announces the continued success of Wohlhaupter's MVS modular connection system. Part of the Multibore collection, the MVS connection is a flexible system designed primarily for drilling and boring, with application possibilities in tapping, endmilling and light shell milling.
The MVS connection is a modular connection that allows for extended lengths or reduced diameters by using a series of components engineered for flexible adaptation to a manufacturing application. It comes in four sizes to accommodate the diameter range of the boring required: MVS 50-28, 63-36, 80-36 and 100- 56. Operators can easily build and change tooling components and this flexibility lets the MVS system work accurately for almost any project needs.
It offers a mating and clamping draw force of approximately 1,900 psi. This strength is provided by a three-point triangular system. The pressure points are an equal 120 degrees apart, creating high rigidity, high performance capability and a total system accuracy of 3 microns.
The original concept for this connection was developed in 1973. The system holds tolerances of 0.002 microns ID to OD and a consistent 0.002 microns of parallelism between mating surfaces. Only a connection system with the strength of the MVS allows for such tight tolerances and superior quality components and surfaces, according to the company.