December 04, 2018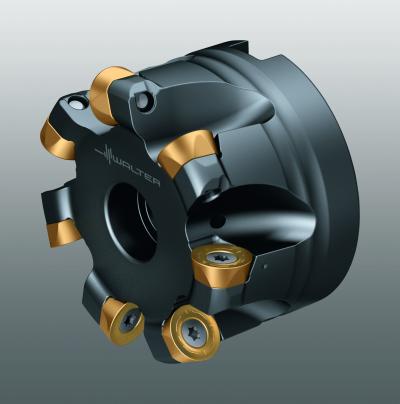 Walter has expanded its Tiger·tec Gold line of indexable inserts with the addition of the WMP45G grade made specifically to handle the challenges of turbine blade machining. The new WMP45G grade, available as round indexable inserts for the F2334R copy milling cutter, is for facemilling and copy milling of martensitic and austenitic stainless steels.
The Tiger·tec Gold line's combination of a heat-resistant yet tough substrate with a TiAIN coating layer sets the benchmark in ultralow-pressure CVD coating technology. The technology enables Tiger·tec Gold to boost tool life, increase productivity and provide greater process reliability. The new grade is available in three different geometries – D57, D67 and F67 – to suit the stability of various machines, clamping arrangements and workpiece geometries.
The performance of the WMP45G is as unique as the grade itself: This new grade boosts the number of turbine blades usually milled in multitasking machines by 20 to 50 percent. In addition, it also boasts the well-known benefits of the Tiger·tec Gold grades, including good wear detection. Walter recommends using the WMP45G when cutting parameters are critical and long tool life is needed. As a result, this new turbine blade grade is especially beneficial for users who work with high volumes and require high machine output.