April 09, 2019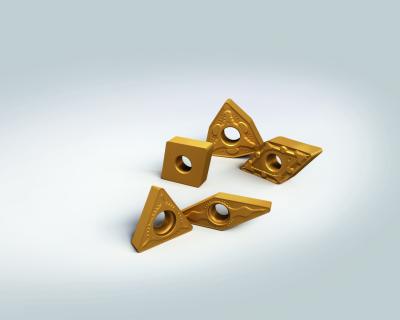 Walter has added two new cast iron insert grades to its Perform Line family of turning tools, the WKV10 and WKV20. These new negative geometry grades are versatile, cost-effective inserts and are ideal for those who machine small or medium batch sizes. These new grades in the Perform Line supplement corresponding grades for steels that were introduced last year.
Along with these new grades for cast iron, Walter has also introduced new positive geometries FV4 (finishing) and MV4 (medium). These geometries are primarily designed for steel and associated with WPV10 and WPV20 grades.
These economical inserts are beneficial to users who have difficulties measuring the tool life of an insert and who change inserts at set intervals. Both WKV10 and WKV20 grades have extremely wear-resistant CVD coating and can be used for a wide range of materials and applications.
These new grades are available in two geometries: MV7 (medium machining), and RV7 (roughing). Primary application for these new Walter Perform turning inserts are cast iron (ISO K). In field testing, the Walter Perform turning inserts demonstrated superior process reliability with effective chip control, and tool life increases of up to 100% when compared to other similar inserts.
Related Glossary Terms
chemical vapor deposition ( CVD)


chemical vapor deposition ( CVD)

High-temperature (1,000° C or higher), atmosphere-controlled process in which a chemical reaction is induced for the purpose of depositing a coating 2µm to 12µm thick on a tool's surface. See coated tools; PVD, physical vapor deposition.

turning


turning

Workpiece is held in a chuck, mounted on a face plate or secured between centers and rotated while a cutting tool, normally a single-point tool, is fed into it along its periphery or across its end or face. Takes the form of straight turning (cutting along the periphery of the workpiece); taper turning (creating a taper); step turning (turning different-size diameters on the same work); chamfering (beveling an edge or shoulder); facing (cutting on an end); turning threads (usually external but can be internal); roughing (high-volume metal removal); and finishing (final light cuts). Performed on lathes, turning centers, chucking machines, automatic screw machines and similar machines.