May 09, 2023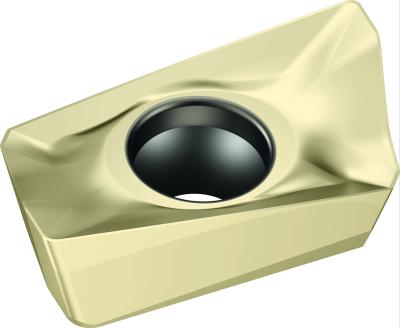 Walter is expanding its Tiger·tec® Gold range with the new WKK25G milling grade, featuring PVD aluminum oxide (Al2O3) coating. The coating is part of a new coating generation that ensures excellent cutting-edge stability and therefore tool life.
The coating consists of gold-colored zirconium nitride (ZrN) top layer for the best friction characteristics and wear detection, an Al2O3 middle layer to resist high temperatures and a titanium aluminum nitride (TiAlN) layer on the carbide substrate for high wear resistance. As all cast iron materials contain silicon carbide (SiC), which is very abrasive to the cutting edge, superior reliability is ensured because of this perfect balance between wear resistance and toughness.
The WKK25G grade is a true specialist when milling today's cast irons (ISO K material group), such as ductile cast iron. Specifically, the grade is ideal for unfavorable milling conditions, such as interrupted cuts, and for wet machining applications.
The grade meets the most stringent requirements for process reliability, particularly in the automotive industry, and is suitable for highly abrasive workpiece materials. Successful applications include aerospace engine housing parts and automotive turbochargers and other engine components.
In these applications, Walter managed to increase tool life compared to previous cutting tool materials by 30% or more. The inserts are compatible with all standard Walter milling cutters and have an extremely smooth rake face to minimize friction.