June 02, 2017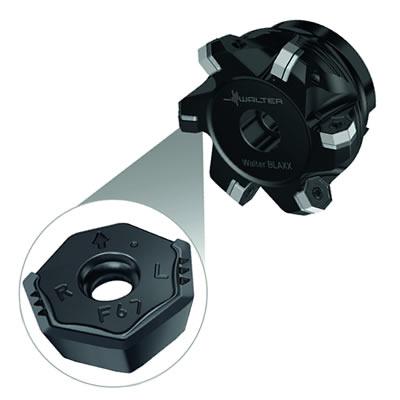 Walter has expanded the capabilities of its popular Walter BLAXX M3024 heptagon milling cutter with new wiper inserts. The inserts, which have two right-hand and two left-hand cutting edges, were specifically developed for the Walter BLAXX M3024, and allow it to be used for finishing operations.
Semifinishing and finishing operations can now be combined into a single operation using a single tool – without adjusting the finishing cutting edges. This reduces the number of tools required and reduces machining time by minimizing time spent changing and adjusting tools.
This combination of milling cutter and indexable inserts is well-suited to the multiple-step production of components such as exhaust turbochargers or turbine blades, as well as any other components made from stainless steels, cast materials or steel. Additional features of these new negative indexable wiper inserts include excellent process reliability and soft cutting action due to the positive cutting edge geometry.
Designated as wiper insert XNGX0705ANN-F67, they may only be combined with periphery ground inserts XNGU0705ANN with secondary cutting edge. Additionally, to achieve similar results, Walter has provided wiper insert LNHX13068R-L55T for use with its F5141 indexable facemill. This insert has four right-hand cutting edges and may only be combined with periphery ground inserts LNHU13068R-L55T.