April 09, 2019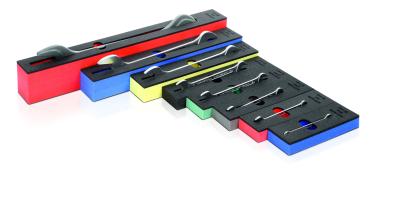 Hoffmann Group USA announced that its Web-based eForm configurator has been optimized for free-form surfaces. Using eForm, Hoffmann Group USA customers can design their own customised rigid foam inlays, whereby individually placed tools are not only positioned next to each other, but also above one another. This enables a larger number of tools to be stored in tool cases, drawers and cabinets, in an orderly manner. A new XXL scanning pad, measuring 1,000x400 millimeters, makes it possible to create rigid foam inlays for small and extremely large tools – providing convenient storage options.
"With our newly optimized eForm configurator, creating customized rigid foam inlays for your drawers, cabinets and tool cases has never been easier," said Charlie Slagle, president and CEO of Hoffmann Group USA. "The end result for our customer is cleaner, easier to navigate storage systems and work spaces."
The eForm rigid foam configurator from the Hoffmann Group USA makes creating rigid foam inlays for tool cases, drawers and cabinets simple. This is how it works: Place the tools on the scanning pad; take a photo using a smartphone or digital camera, post-edit it on the computer and it's done. Users can also configure their foam inlays on their computer, without the need for a scanning pad, by using the comprehensive database with 14,000 pre-installed tools and 30,000 tool contours from the field of machining and clamping.
With tool cases, particularly, every millimeter of extra storage space is critical. That is why Hoffmann Group USA has expanded the eForm service with the "free-form surfaces" function. This enables a milling pocket to be created, for example, in which the blade of a file is positioned above the blade of a Gent's saw, creating a case is better organized, and that stores more tools.
Related Glossary Terms
gang cutting ( milling)


gang cutting ( milling)

Machining with several cutters mounted on a single arbor, generally for simultaneous cutting.

milling


milling

Machining operation in which metal or other material is removed by applying power to a rotating cutter. In vertical milling, the cutting tool is mounted vertically on the spindle. In horizontal milling, the cutting tool is mounted horizontally, either directly on the spindle or on an arbor. Horizontal milling is further broken down into conventional milling, where the cutter rotates opposite the direction of feed, or "up" into the workpiece; and climb milling, where the cutter rotates in the direction of feed, or "down" into the workpiece. Milling operations include plane or surface milling, endmilling, facemilling, angle milling, form milling and profiling.

sawing machine ( saw)


sawing machine ( saw)

Machine designed to use a serrated-tooth blade to cut metal or other material. Comes in a wide variety of styles but takes one of four basic forms: hacksaw (a simple, rugged machine that uses a reciprocating motion to part metal or other material); cold or circular saw (powers a circular blade that cuts structural materials); bandsaw (runs an endless band; the two basic types are cutoff and contour band machines, which cut intricate contours and shapes); and abrasive cutoff saw (similar in appearance to the cold saw, but uses an abrasive disc that rotates at high speeds rather than a blade with serrated teeth).