March 24, 2022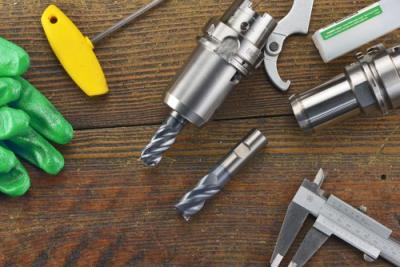 WIDIA announced today the launch of the WCE solid end milling platform, delivering affordable performance and reliability for small to medium machine shops. The initial release of the WCE platform features WCE4, a four-flute geometry which combines advanced, high-performance features with a brand new, versatile grade offered at a highly competitive price.
"With its new design, the WCE4 delivers the next generation of versatile end mills to help our customers be more productive and efficient," said Tamir Sherif, Solid End Milling Global Portfolio Manager, WIDIA. "The WCE4 is an attractively priced tool for small-to-medium shop floors where reliability and consistent tool life are high priorities."
The WCE4 will be a small-to-medium job shop staple with advanced, versatile geometry features at an affordable price.
Two key features of the tool are its asymmetrical index and variable helix. The combination of the two reduce vibrations and enable heavy cuts, while the new grade,
The WCE platform includes four-flute, square-end and ball nose end mills with both straight and Weldon shanks and is available in both metric and inch dimensions. The WCE5 five-flute geometry will be released later in 2022. Orders for the WCE4 end mill, as well as other WIDIA metal cutting tooling, can be placed through WIDIA authorized distribution partners.
Related Glossary Terms
gang cutting ( milling)


gang cutting ( milling)

Machining with several cutters mounted on a single arbor, generally for simultaneous cutting.

milling


milling

Machining operation in which metal or other material is removed by applying power to a rotating cutter. In vertical milling, the cutting tool is mounted vertically on the spindle. In horizontal milling, the cutting tool is mounted horizontally, either directly on the spindle or on an arbor. Horizontal milling is further broken down into conventional milling, where the cutter rotates opposite the direction of feed, or "up" into the workpiece; and climb milling, where the cutter rotates in the direction of feed, or "down" into the workpiece. Milling operations include plane or surface milling, endmilling, facemilling, angle milling, form milling and profiling.

milling machine ( mill)


milling machine ( mill)

Runs endmills and arbor-mounted milling cutters. Features include a head with a spindle that drives the cutters; a column, knee and table that provide motion in the three Cartesian axes; and a base that supports the components and houses the cutting-fluid pump and reservoir. The work is mounted on the table and fed into the rotating cutter or endmill to accomplish the milling steps; vertical milling machines also feed endmills into the work by means of a spindle-mounted quill. Models range from small manual machines to big bed-type and duplex mills. All take one of three basic forms: vertical, horizontal or convertible horizontal/vertical. Vertical machines may be knee-type (the table is mounted on a knee that can be elevated) or bed-type (the table is securely supported and only moves horizontally). In general, horizontal machines are bigger and more powerful, while vertical machines are lighter but more versatile and easier to set up and operate.
Additional Products from WIDIA