January 12, 2012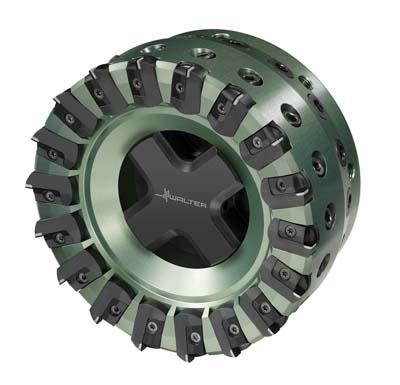 Walter USA LLC has introduced the Walter Valenite F4050 cartridge type cutter, an innovative new approach to the challenges of high-speed milling of non-ferrous materials. Features of the F4050 include the use of high-tensile steel cartridges with brazed PCD carbide tips. An adjusting key guarantees aµm-precise runout of the cartridges. Toolsetting is done through clamping screws which are tightened according to defined torques, enabling high limiting speeds. Fine balancing screws also ensure a high balance class. Importantly, the F4050 is designed and built to allow all adjustments to be done quickly and easily and thus help boost the tool's productivity.
F4050 is available in diameters ranging from 80 to 200mm. A carbide chip deflector supports the significant level of chip production in both roughing and finishing operations. The tool is equally productive at maximum cutting speeds in the range from 5000 to 7000 m/min.
Cartridges with a 90°Clearance angle and cutting depths of up to 4mm, or cartridges with a 75°Clearance angle and cutting depths of up to 1.1mm are currently available. These enable both shoulder mill and face mill operations. In addition, Walter also provides a broad finishing cartridge for applications where a very high quality surface finish is critical.
Applications for the new milling cutter include high volume machining of non-ferrous metals such as hypereutectic and hypoeutectic aluminum alloys in the automotive and general machining sectors. Typical components would be engine blocks, cylinder heads and die-cast aluminum gearbox housings. Depending on the applications, special PCD varieties and tool diameters are also available.