December 02, 2019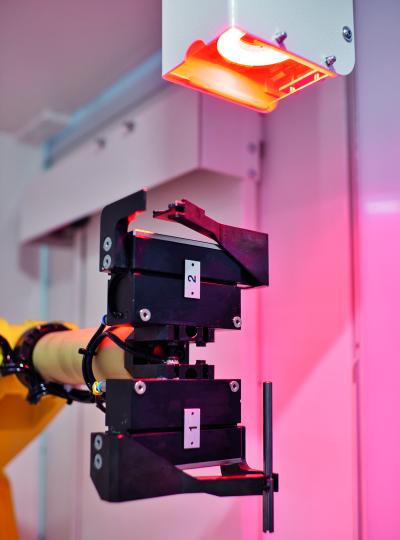 United Grinding North America Inc. and Walter Maschinenbau GmbH have announced the release of the Walter Tool Vision System, which allows for the automatic detection and alignment of tools, blanks and other workpieces. Developed by Walter for simplified measurement operations for advanced tool grinding and eroding machines equipped with robotic part loaders, the new system will help manufacturers further optimize the production of small high-precision parts.
The contact-free detection system in the Walter Tool Vision System can quickly identify the orientation of tools or blanks, such as those with brazed PCD plates on the front, sintered PCD veins or cooling channels. The detecting is performed automatically during idle time. This allows for significant time saving as compared to manual measurement in addition to the elimination of human errors or the risk of probe contact damaging the part.
A permanent part of robotic cells, the system may be equipped with two lenses depending on part size. One lens is appropriate for parts between 1.7 mm and 12 mm in diameter, while the other lens handles parts with diameters between 6 mm and 32 mm.
Related Glossary Terms
grinding


grinding

Machining operation in which material is removed from the workpiece by a powered abrasive wheel, stone, belt, paste, sheet, compound, slurry, etc. Takes various forms: surface grinding (creates flat and/or squared surfaces); cylindrical grinding (for external cylindrical and tapered shapes, fillets, undercuts, etc.); centerless grinding; chamfering; thread and form grinding; tool and cutter grinding; offhand grinding; lapping and polishing (grinding with extremely fine grits to create ultrasmooth surfaces); honing; and disc grinding.

polycrystalline diamond ( PCD)


polycrystalline diamond ( PCD)

Cutting tool material consisting of natural or synthetic diamond crystals bonded together under high pressure at elevated temperatures. PCD is available as a tip brazed to a carbide insert carrier. Used for machining nonferrous alloys and nonmetallic materials at high cutting speeds.

vision system


vision system

System in which information is extracted from visual sensors to allow machines to react to changes in the manufacturing process.