April 21, 2020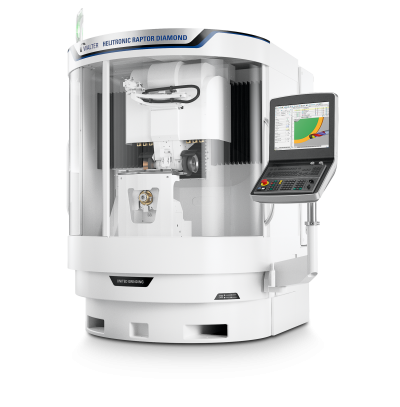 UNITED GRINDING Group has further extended its Two-in-One machine concept with the announcement of the new WALTER HELITRONIC RAPTOR DIAMOND. Whether for resharpening carbide or PCD tools for use with wood or metalcutting applications, the HELITRONIC RAPTOR DIAMOND's grinding and eroding technology offers the highest level of flexibility.
WALTER eroding technology achieves low cycle times and better performance thanks to FINE PULSE TECHNOLOGY, which produces tools with smoother, more perfect exteriors and cutting edges along with super-fine finishes that match the level of visible shine generally reserved for polished tools. FINE PULSE TECHNOLOGY finely finishes tools made from the most common PCD types, from 10 μm grain size to coarse-grained formulations.
Developed especially for the re-sharpening and production of rotationally symmetrical PCD tools, the WALTER HELITRONIC RAPTOR DIAMOND is particularly well-suited for shops that do not require features such as automatic tool support systems or automatic grinding wheel/electrode changers, but still need a high degree of flexibility in the working area for diverse types of tools. This ensures that manufacturers have access to WALTER quality with exactly the features they need for part-production and re-sharpening success.
The HELITRONIC RAPTOR DIAMOND has a 15.4 hp (11.5 kW) spindle and a work enve- lope that can accommodate tools up to 15.7" (400 mm) in diameter and 10.6" (270 mm) in length, including end face operations. Like other WALTER Two-in-One EDM and grinding machines, an HSK interface for electrode/wheel grinding is standard. For the utmost in tool grinding and eroding efficiency, from tool design to part production as well as re-sharpening, the machine uses WALTER HELITRONIC TOOL STUDIO.
In addition to its low-vibration gray cast iron frame and gantry-type construction, the HELITRONIC RAPTOR DIAMOND is designed to accommodate a range of options, includ- ing top loaders with up to 500-tool capacities integrated in the working area. Other options include glass scales, A-axis torque drive, a grinding wheel measuring probe and a manual support steady rest.