March 30, 2018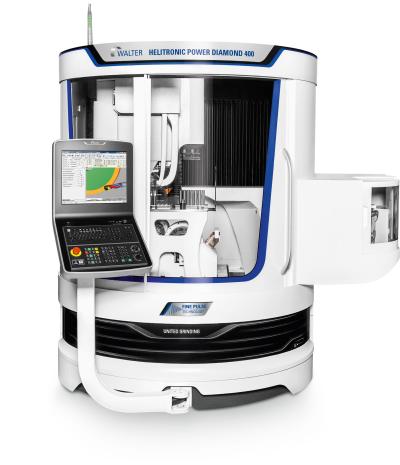 United Grinding Group offers its newly redesigned Walter Helitronic Power 400 grinding machine and Helitronic Power Diamond 400 grinding and eroding machine.
"The new Helitronic Power 400 grinding machine and Helitronic Power Diamond 400 are more in line with our Helitronic Vision models," said Torsten Wörner, product manager at Walter's grinding department. "They're basically two completely new machines."
The two new Helitronic machines offer 35 percent more workpiece space with the capability to grind tools up to 380 mm (14.96") in length. They also feature remodeled machine beds with enhanced rigidity for greater vibration dampening for improved part surface finishes and to ensure greater precision. A new worm drive for the C-axis, optional torque motor and pneumatically driven steadyrests and tailstocks from the Helitronic Vision series all serve to further improve grinding and eroding operations by reducing leaks and improving heat management for greater cleanliness.
Unlike previous models, the new Helitronic Power 400 grinding machine and Helitronic Power Diamond 400 can accommodate gantry-style loaders for up to 500 tools or robot loaders for up to 7,500 tools. Another previous Helitronic Vision exclusive, Walter's Robot Loader 25, is now available for the redesigned models as an automation solution for tools weighing more than 25 kg (55.12 lbs).

Like all of Walter's Two-In-One machines, the new Helitronic Power Diamond 400 utilizes Fine Pulse Technology. "For over a year, this technology has been at the forefront when it comes to surface quality, cutting edge toughness and process stability for PCD tools," said Siegfried Hegele, product manager in the eroding department at Walter. Likewise, both machines utilize the Helitronic Tool Studio grinding and eroding software.
Related Glossary Terms
grinding


grinding

Machining operation in which material is removed from the workpiece by a powered abrasive wheel, stone, belt, paste, sheet, compound, slurry, etc. Takes various forms: surface grinding (creates flat and/or squared surfaces); cylindrical grinding (for external cylindrical and tapered shapes, fillets, undercuts, etc.); centerless grinding; chamfering; thread and form grinding; tool and cutter grinding; offhand grinding; lapping and polishing (grinding with extremely fine grits to create ultrasmooth surfaces); honing; and disc grinding.

grinding machine


grinding machine

Powers a grinding wheel or other abrasive tool for the purpose of removing metal and finishing workpieces to close tolerances. Provides smooth, square, parallel and accurate workpiece surfaces. When ultrasmooth surfaces and finishes on the order of microns are required, lapping and honing machines (precision grinders that run abrasives with extremely fine, uniform grits) are used. In its "finishing" role, the grinder is perhaps the most widely used machine tool. Various styles are available: bench and pedestal grinders for sharpening lathe bits and drills; surface grinders for producing square, parallel, smooth and accurate parts; cylindrical and centerless grinders; center-hole grinders; form grinders; facemill and endmill grinders; gear-cutting grinders; jig grinders; abrasive belt (backstand, swing-frame, belt-roll) grinders; tool and cutter grinders for sharpening and resharpening cutting tools; carbide grinders; hand-held die grinders; and abrasive cutoff saws.

polycrystalline diamond ( PCD)


polycrystalline diamond ( PCD)

Cutting tool material consisting of natural or synthetic diamond crystals bonded together under high pressure at elevated temperatures. PCD is available as a tip brazed to a carbide insert carrier. Used for machining nonferrous alloys and nonmetallic materials at high cutting speeds.