September 13, 2013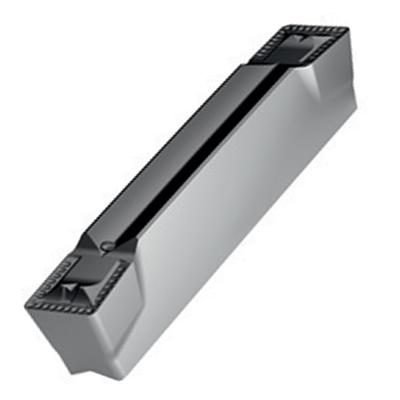 Walter USA LLC has introduced Walter Cut UD4, a new insert geometry for radial grooving and groove turning in the automotive and general metalworking industries that delivers maximum process reliability, optimal chip formation, high levels of productivity and reduced tooling costs.
The Walter Cut UD4 features a new multifunctional chip breaker design that provides superior chip control, thanks in part to its double geometry that delivers a large application area. It has a strong 0 degree primary chamfer that strengthens the cutting edge, a silver surface that makes for easy wear detection and full usage of cutting edges. It also features a new coating that delivers lower fiction and better wear resistance.
With a standard PVD coating there is typically a high rate of heat transfer into the cutting tool insert substrate, which leads to higher wear rates. With the Walter Cut UD4 Tiger-tec Silver PVD aluminum oxide coating there is less heat in the substrate, leading to higher tool life, reduced tool and tool change cost, increased process reliability and higher productivity, according to the company.
The main application area for the UD4 is grooving and groove turning on forged materials such as transmission components, gears and shafts. IT works especially well in low carbon steels where chip control is a particularly big challenge. Targeted workpiece materials are steel and cast iron (ISO P and ISO K).