February 01, 2014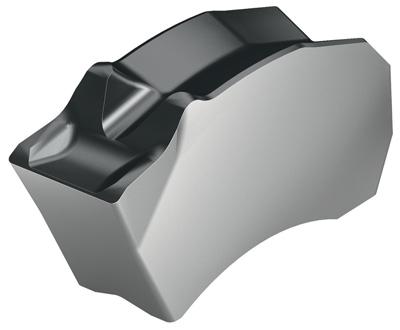 Walter USA LLC has introduced the Walter Cut SX grooving and parting system, a flexible new approach for both turning and milling operations that reportedly brings higher levels of reliability, productivity, and tool life to these crucial operations. The key to the system's performance is its innovative design featuring self-clamping, single edge grooving inserts with positive-locking integration in the tool insert seat. The locking action is made possible by the unique curved shape of the inserts. Positive locking keeps the inserts secure and accurately seated when subjected to heavy load in the feed direction.
The new self-locking system's top clamp produces high retaining forces without hindering the chip flow. It fixes the insert in the seat, which takes the form of a prism for precise insert location. In addition, the seat also has a contact surface at the back for supporting the insert. As a result, the cutting forces are transferred into the fixed part of the tool. This distribution of force guarantees excellent process reliability and enables an increase in productivity due to higher cutting parameters. The Walter Cut system employs a straight coolant outlet resulting in no spray effect. In addition, a special key for changing the insert allows replacement in just one simple and rapid operation.
Walter supplies these new grooving inserts in the tough, proven Tiger-tec Silver PVD cutting material grades WSM33S and WSM43S for steel, stainless steel and difficult to machine materials. Currently there are three geometries to choose from: The universal CE4 geometry with tough cutting edge for medium to high feed rates, the positive CF5 geometry for long-chipping materials and medium feed rates, and the sharp CF6 geometry for small diameters or thin-walled tubes and low feed rates. All grooving inserts can be supplied in insert widths from 2.0 to 6.0mm.