November 15, 2017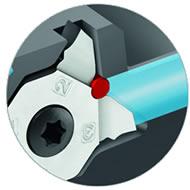 The new Walter Cut MX grooving and parting tool reportedly improves accuracy, stability and process reliability by adopting and improving on proven technology. These new indexable inserts have four cutting edges per insert. Inserts are offered in three different geometry types (GD8, CF5 and RF5), and Tiger·tec Silver PVD coating. The self-aligning, tangential clamping of the MX system and the dowel pin location in its insert seat result in greater repeatability, stability and process reliability.
Plus, unlike comparable systems, it is impossible to fit the inserts incorrectly in the Walter system, which makes handling reliable. In addition to the high-precision toolholder system with precision cooling, the inserts' Tiger·tec Silver PVD maximizes tool life.
Walter Cut MX geometries offer superior chip control, particularly the CF5 sintered geometry. The inserts themselves have four precision ground cutting edges. Cutting depths of up to 6 mm and cutting widths from 0.8 to 3.25 mm are available in the standard range.
Due to the extremely precise center height and the cutting edges, the system is ideal for precision grooves, circlip grooves and small diameters. This makes Walter Cut MX particularly attractive to small parts manufacturers with requirements for high accuracy. The efficiency of the system is such that only one type of cutting insert is required for both the left- and the right-hand toolholders. Furthermore, if one cutting edge breaks, users can continue working with the rest.