November 17, 2016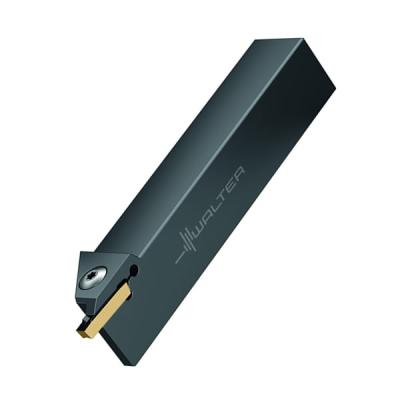 The new Walter Cut G1511-P grooving tool with precision coolant supply, available in 1.0 in. shank sizes, provides long tool life and high productivity, among other benefits. It is suitable for universal use, performing grooving, parting-off, recessing and face grooving with GX insert cutting widths from 0.024 to 0.250-in. (0.6 to 6.35 mm), and can perform radial and axial grooving operations without loss of stability.
The inserts deliver a cutting depth of up to 0.16 in. (4 mm), with the GX16 series inserts and up to 0.24 in.(6 mm) with GX24 inserts. In addition, after the first groove is cut, the groove can be widened in either direction without limitation. The new grooving tool features precision coolant delivered directly to the cutting zone starting from a coolant pressure as low as 145 psi. It employs a G1/8-in. internal coolant connection and direct coolant transfer (M6 interface) when using A2120/A2121 adaptors.
Walter's G1511-P grooving tool is designed with a low head height for superior chip evacuation, and a Torx Plus screw that can be accessed from above or below the tool. It provides users with cycle time reduction through higher cutting values along with reliability and versatility, which translates into fewer time-consuming toolholder changes, a feature which is particularly attractive for job shops with short run production.