August 01, 2015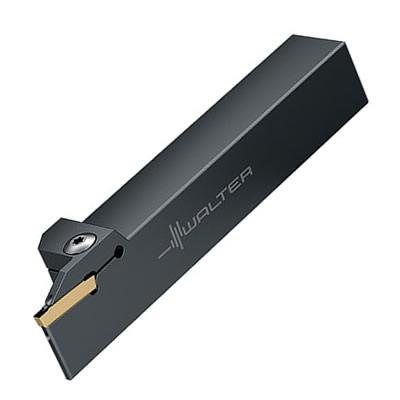 Walter has introduced the Walter Cut G1011-P, a new grooving tool that can enhance surface quality, extend tool life, and improve process reliability. Available in shank versions of 0.750 and 1.00" (also 20 and 25mm), this internally cooled tool features precision coolant delivered to both the flank and the chipbreaker of the insert to address problems with chip control, especially problems with long chips. This results in excellent surface quality, improved and more consistent tool life with tool life improvements of as much as 200-300 percent higher in some cases.
Its short tool head length helps make it suitable for universal use while also boosting chip evacuation. The Walter Cut G1011-P boasts high clamping forces because of optimum screw position, and features simple insert indexing in normal or inverted position.
Used extensively on turret turning centers, Swiss turn, and multispindle machines, with its ample cutting depths of up to 0.827" (21mm), the versatile new G1011-P has shown itself to be particularly effective for parting off and deep grooving on stainless steels, high-temp alloys, long chip-forming steels and other difficult to machine materials.