January 01, 2011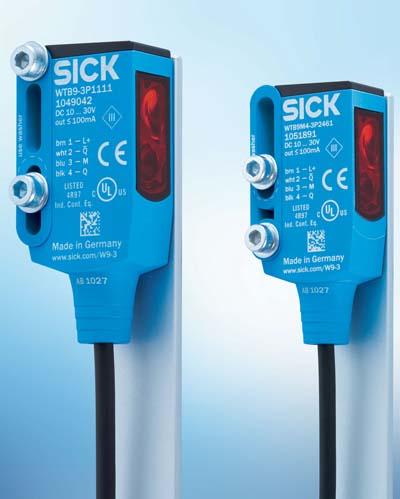 SICK Inc. announced the launch of its W9-3 photoelectric sensor, a high-performance sensor in an extremely tough plastic housing. This third-generation sensor has a wide variety of options to choose from, such as sensing range, mounting, and connectivity, making it ideal for many applications. Examples include detecting clear material, multicolored and shiny objects in the material handling and food and beverage industries. The W9-3 uses a proprietary type of plastic and molding process that makes the sensor as tough as nails. The material, called VISTAL, is 9x stronger than standard ABS, the company reports. The sensor's connector is over-molded onto the device creating a sensor that is nearly unbreakable.
The W9-3 uses SICK's third-generation custom ASIC (application-specific integrated circuit) that incorporates OES3 technology to provide additional advantages, such as exceptional background suppression at an extended range. The OES3 contains proprietary technology that enables the W9-3 to ignore stray background reflections, detect multicolored/shiny objects, and provide high immunity to ambient light. The W9-3 has many different mounting options due to its slotted through hole design. This feature offers the ability to mount the sensor from 5.2mm to 13.7mm and 18.9mm to 27.4mm, ensuring the sensor can be mounted in any number of configurations.
The W9-3 has complementary (light and dark operate) outputs in one housing. This universal feature helps reduce inventory of different parts that customers typically have in stock to solve multiple types of applications.
Teach-in or potentiometer adjustment: The W9-3 offers multiple ways to easily adjust the sensing range. Because of OES3 technology, the sensor is electronically taught (no mechanical moving parts). This allows push-button teach-in that is as precise as a potentiometer adjustment.