April 24, 2021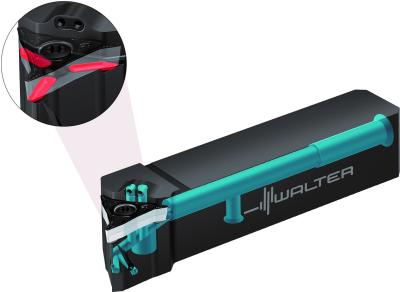 The new W-1011-P/WL25 Copy Turn system features a unique Walter-Lock (WL) positive locking technology that supports the inserts very close to the cutting zone; leading to reduced vibrations, high stability and highly improved tool life in profiling operations.
With this new tool, V or D-style inserts with just two cutting edges and lower stability (ISO VBMT, VCMT, DCMT) are replaced with triangular cutting inserts with three cutting edges and high stability. These three-edged inserts allow for a 50° undercut angle, ideal for profiling operations. Since the insert shape enables turning both towards as well as away from the spindle, both cutting edges of the insert get utilized, substantially increasing the tool life. Additionally, with the chip thinning calculations, substantially higher feeds can be achieved, especially when the insert is feeding away from spindle. The positive-locking Walter Lock (WL) connection prevents the insert from moving in the pocket of the tool holder, contributing to higher indexing accuracy when compared to ISO indexable inserts. Walter's signature precision coolant delivery on the rake and clearance faces promotes maximum tool life and efficient chip evacuation.
The new Walter W-1011-P/WL25 Copy Turn system boasts a high levelof flexibility since four indexable insert types fit in the same tool: neutral, right-hand, left-hand, and full radius inserts. Geometries include MP4 and MM4 geometry with 35° cutting angle, and MU6 geometry for full radius indexable inserts. WL25 inserts are available in both PVD and CVD grades; for turning steels, stainless steels, cast irons and superalloy workpieces. The W1011 holders are available in square shank sizes of ¾ and 1 in., 20x20 and 25x25 mm with plans to extend the range into Capto adaption.