June 29, 2022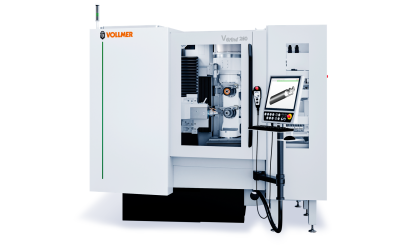 VGrind 260, VGrind Neon and VGrind Argon – these are the names of the three new tool grinding machines from the sharpening specialist VOLLMER. They were presented for the first time at the GrindingHub 2022 trade fair in Stuttgart. All three machines are based on VOLLMER's innovative double spindle concept, which enables precise and efficient multi-level machining thanks to its two vertical spindles. While the VGrind 260 can be configured for specific customer requirements, the VGrind Argon and Neon are two special editions that VOLLMER has designed for fast and cost efficient access to the world of tool grinding.
All three models are suitable for machining rotary tools made from carbide, such as drills, milling cutters or reamers. With these machines, VOLLMER is expanding their range of tool and cutter grinders, which also includes the VGrind 340S and VGrind 360S models.
VGrind 260 can be configured individually
Like the VGrind 340S and 360S models, the new VOLLMER VGrind 260 grinding machine can be configured individually. For example, customers can choose between a direct drive or belt drive for the grinding spindles or equip the machine with a grinding wheel changer for up to eight grinding wheel sets – also including interchangeable coolant nozzles, if required. Several options are possible for the automation for unmanned, round-the-clock machining: The HP 160 pallet magazine offers space for up to 900 blanks or tools made from carbide and the HC4 chain magazine can be loaded with up to 158 shank type tools or 39 HSK-A63 tool holders. As an alternative, the machine is available with an internal pallet loader. It offers space for two compact pallets with a capacity of up to 300 blanks or tools. Furthermore, random loading of different shank diameters is also possible.
Just like all other VGrind models, the VGrind 260 also has outstanding kinematic properties with two grinding spindles situated above each other, with the grinding wheel set positioned at the C axis pivot point for efficient multi-layer machining. This arrangement reduces the machining times thanks to shorter linear axis travel distances.
Enter into the world of tool grinding with VGrind Argon and Neon
The new VGrind Neon and VGrind Argon tool grinding machines are also based on the tried-and-tested "DNA" with the double-spindle concept. VOLLMER has designed the compact machines for cost efficient entry into the world of tool grinding and provided them with functional features as standard: As with all VGrind models, they are equipped with an IoT Gateway (Internet of Things) and have an internal wheel measurement system, which measures the grinding wheels and monitors their wear. The VGrind Argon has a four-wheel grinding wheel changer as well as an internal pallet loader and is designed for fully automatic operation.
"Our unique VGrind approach of multi-level machining has established itself as a reliable and highly precise technology in the global market for tool grinding," says Jürgen Hauger, CEO of the VOLLMER Group. "With our new VGrind models, we are specifically responding to different requirements that tool manufacturers and sharpening services around the world have placed on us: On the one hand, there are individual configurations of the machines with regard to flexibility and precision; on the other hand, there is an outstanding price-performance ratio."