March 29, 2019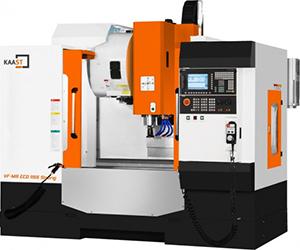 The way a machine is built affects the way it performs. With premium-quality components, high accuracy and attractive price points, the VF-Mill series is setting the standards for how to build vertical machining centers. With machines installed in more than 20 countries, the VF-Mill series has become the go-to machining center for the KAAST family of corporations.

The VF-Series machines offer options for customers to prioritize performance, rigidity and/or speed; with machines that excel at each of these priorities, offering users the ability to receive only what they need for their individual applications. The best known of the VF-Series is the Alpha Center. This 3-Axis (4/5th axis available as an option) machining center features a tempered stress relieved cast-iron frame and class C3 ballscrews for accuracy and durability. All models of the Alpha Center include a fully enclosed splash guard, 24-pocket toolchanger, 10,000-rpm CAT 40 spindle (12,000 and 15,000 rpm available), and an automatic lubrication system.

For training, toolroom workshops, R&D and model making, the VF-Mini offers a 12-position umbrella toolchanger to go with the 10,000-rpm BT40 spindle. Offering 19.7/11.8/15.75" of travel for the X/Y/Z axis and a 25.5"x12" table which can hold up to 440 lbs, the Mini brings plenty of brawn to go with ±0.0004/12" positioning accuracy and ±0.0002" repeatability accuracy.

Running the newest generation of the FANUC Series 0i control systems, the VF-Series machines can receive programming at the machine via manual programming, USB, or CF Card, or ethernet. The Series 0i brings faster, more accurate performance to a wide range of milling, turning, punching and grinding applications with more standard features, more advanced capabilities and faster communications than ever before. FANUC controls have a world-class reputation for performance, precision, reliability and familiar operation, with more than 3.7 million controls installed worldwide. The Series 0i control is the industry's most reliable system with a mean time between failure rate of 52 years.