June 13, 2016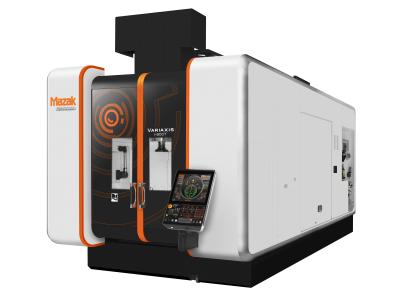 Mazak developed its new VARIAXIS i-800T multitask machine specifically to enhance milling operations and significantly boost productivity, especially for those manufacturers in the aerospace industry. With full 5-axis milling and turning capabilities along with integrated liquid nitrogen cryogenics technology, the machine not only delivers high processing efficiency for complex aerospace components, but also prevents the detrimental white layers typically generated when machining those parts from tough materials such as titanium, nickel, Invar and other exotics, according to the company.
The machine has an 80-tool magazine for continuous uninterrupted productivity and a 10,000-rpm, CAT-50 spindle for milling speed and power. The machine's trunnion-style tilting table and multitasking capability allows users to reduce the inaccuracies that occur when moving parts across multiple workstations, eliminate work-in-process inventory and increase overall throughput.
With added cryogenics, the VARIAXIS i-800T also significantly increases cutting tool life in addition to eliminating part surface white layers. Mazak's cryogenics freeze cutting tools from the inside out and keeps their cutting tips/edges in a frozen state while workpiece materials remain in an ambient one. In doing so, absolutely zero heat or thermal affects transfer into workpieces so that they maintain their base material integrity. The system also facilitates faster machining speeds and feeds, helps prevent burrs and contributes to the reduction of overall cost per part because processes to remove white layers become unnecessary.
"As with all Mazak technology, we developed the VARIAXIS i-800T with cryogenics to accomplish one key objective – further improve the performance and productivity of our customer's overall part processing operations," said Dan Janka, executive vice president at Mazak. "And we collaborated with cryogenics pioneer company 5ME to ensure our particular system would truly enhance machining operations and benefit our customers. And we've succeeded."
Janka added that aerospace manufacturers stand to save millions of dollars with the elimination of the processes, intense labor and capital equipment currently involved with the removal of white layers from parts after they have been machined.
Related Glossary Terms
gang cutting ( milling)


gang cutting ( milling)

Machining with several cutters mounted on a single arbor, generally for simultaneous cutting.

milling


milling

Machining operation in which metal or other material is removed by applying power to a rotating cutter. In vertical milling, the cutting tool is mounted vertically on the spindle. In horizontal milling, the cutting tool is mounted horizontally, either directly on the spindle or on an arbor. Horizontal milling is further broken down into conventional milling, where the cutter rotates opposite the direction of feed, or "up" into the workpiece; and climb milling, where the cutter rotates in the direction of feed, or "down" into the workpiece. Milling operations include plane or surface milling, endmilling, facemilling, angle milling, form milling and profiling.

turning


turning

Workpiece is held in a chuck, mounted on a face plate or secured between centers and rotated while a cutting tool, normally a single-point tool, is fed into it along its periphery or across its end or face. Takes the form of straight turning (cutting along the periphery of the workpiece); taper turning (creating a taper); step turning (turning different-size diameters on the same work); chamfering (beveling an edge or shoulder); facing (cutting on an end); turning threads (usually external but can be internal); roughing (high-volume metal removal); and finishing (final light cuts). Performed on lathes, turning centers, chucking machines, automatic screw machines and similar machines.