October 01, 2011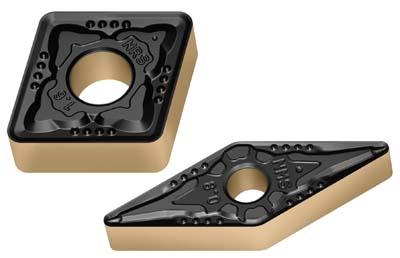 Walter USA LLC has introduced two new Walter Valenite ISO indexable inserts designed for machining nickel, cobalt and iron-based high temperature alloys, such as Inconel 718 and Waspaloy, commonly used in the aerospace, power generation and chemical industries. The innovative geometries are designed for turning operations and feature a new cutting edge design that minimizes the effect of the typical wear mechanisms seen in machining high temperature alloys. The new geometries are combined with a PVD-aluminum oxide coating (grades WSM10 and WSM20) that provides a high level of heat resistance and promotes faster cutting speeds when machining high-temperature alloys.
The new NRS geometry is designed for roughing operations while the NMS geometry is targeted at medium machining and semi-finishing. Both feature a sharp cutting edge design which reduces edge build-up and minimizes cutting pressures, along with edge strength and toughness to deter notch formation and chipping. Their geometries promote good chip evacuation, avoiding the often destructive chip impact typical with high-temperature alloy machining. This superior chip flow and the resulting low cutting pressures, are particularly important in the aerospace industry because the workpieces are often thin-walled and relatively unstable. Thus, too much pressure on the cutting edge can cause these thin walls to deform.
Other typical applications for the NRS/NMS inserts are measuring instruments in the oil and gas industry and, in secondary applications, austenitic stainless steels which are frequently found in the food industry. The roughing and medium machining inserts are available in a variety of shapes appropriate for these operations.
Related Glossary Terms
alloys


alloys

Substances having metallic properties and being composed of two or more chemical elements of which at least one is a metal.

stainless steels


stainless steels

Stainless steels possess high strength, heat resistance, excellent workability and erosion resistance. Four general classes have been developed to cover a range of mechanical and physical properties for particular applications. The four classes are: the austenitic types of the chromium-nickel-manganese 200 series and the chromium-nickel 300 series; the martensitic types of the chromium, hardenable 400 series; the chromium, nonhardenable 400-series ferritic types; and the precipitation-hardening type of chromium-nickel alloys with additional elements that are hardenable by solution treating and aging.

turning


turning

Workpiece is held in a chuck, mounted on a face plate or secured between centers and rotated while a cutting tool, normally a single-point tool, is fed into it along its periphery or across its end or face. Takes the form of straight turning (cutting along the periphery of the workpiece); taper turning (creating a taper); step turning (turning different-size diameters on the same work); chamfering (beveling an edge or shoulder); facing (cutting on an end); turning threads (usually external but can be internal); roughing (high-volume metal removal); and finishing (final light cuts). Performed on lathes, turning centers, chucking machines, automatic screw machines and similar machines.