January 21, 2020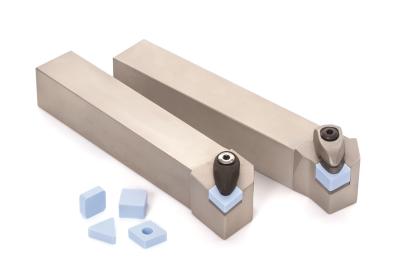 Tungaloy is introducing TZ120 grade ceramic inserts designed for turning cast iron at high cutting speeds.
TZ120 ceramic grade is developed for efficient machining of cast iron. A zirconia-toughened aluminum-oxide grade with superior thermal properties, TZ120 enables extended tool life and process security at high cutting speeds, making the grade ideal for high-speed, dry machining of centrifugally cast cylinder liners. The new grade will allow Tungaloy's extensive lineup of ceramic insert grades to provide a variety of cast iron turning solutions at high speeds.
Key properties:
Tough ceramic grade with chemical and thermal stability provides excellent resistance to strong acids at elevated temperatures
The uniform distribution of the zirconia grains in the alumina matrix imparts superior fracture and notch wear resistance, preventing premature insert failure during demanding operations
Ideal for machining of centrifugally cast iron cylinder liners
Designed for dry machining only — the use of cutting fluids is detrimental to insert life
Introducing six inserts
Related Glossary Terms
turning


turning

Workpiece is held in a chuck, mounted on a face plate or secured between centers and rotated while a cutting tool, normally a single-point tool, is fed into it along its periphery or across its end or face. Takes the form of straight turning (cutting along the periphery of the workpiece); taper turning (creating a taper); step turning (turning different-size diameters on the same work); chamfering (beveling an edge or shoulder); facing (cutting on an end); turning threads (usually external but can be internal); roughing (high-volume metal removal); and finishing (final light cuts). Performed on lathes, turning centers, chucking machines, automatic screw machines and similar machines.

wear resistance


wear resistance

Ability of the tool to withstand stresses that cause it to wear during cutting; an attribute linked to alloy composition, base material, thermal conditions, type of tooling and operation and other variables.
Additional Products from Tungaloy America Inc.