January 01, 2014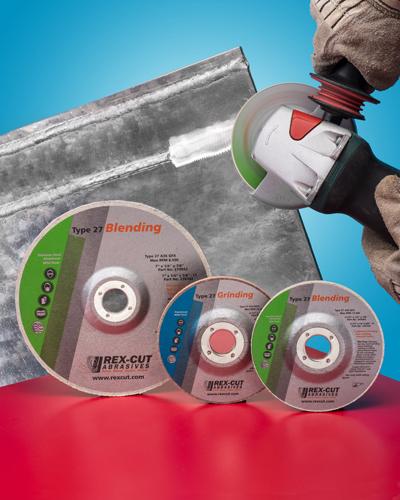 A line of Type 27 cotton-fiber abrasive grinding and blending wheels that provide smooth controlled grinding action, run cool, and are non-loading on aluminum is available from Rex-Cut Abrasives.
Rex-Cut Type 27 Cotton Fiber Grinding Wheels feature multiple layers of cotton fiber that are impregnated with aluminum oxide abrasive grains and then pressed and bonded together. Ideally suited for blending and finishing aluminum in one-step, they provide smooth controlled grinding action, run cool, are non-loading, and eliminate the need for waxes and lubricants.
Constantly revealing fresh abrasives as they work, Rex-Cut Type 27 Cotton Fiber Grinding Wheels for aluminum incorporate a GFX synthetic latex bond and come in 36- and 54-grit versions. Sizes offered include 4", 4-¼", 5", 7" and 9" dia., in 1⁄8", 3/16", and ¼" thicknesses; available with or without 5⁄8-11 throw away adapters.
Rex-Cut Type 27 Cotton Fiber Grinding Wheels are priced from $8.59 up, depending upon size and quantity.
Related Glossary Terms
abrasive


abrasive

Substance used for grinding, honing, lapping, superfinishing and polishing. Examples include garnet, emery, corundum, silicon carbide, cubic boron nitride and diamond in various grit sizes.

aluminum oxide


aluminum oxide

Aluminum oxide, also known as corundum, is used in grinding wheels. The chemical formula is Al2O3. Aluminum oxide is the base for ceramics, which are used in cutting tools for high-speed machining with light chip removal. Aluminum oxide is widely used as coating material applied to carbide substrates by chemical vapor deposition. Coated carbide inserts with Al2O3 layers withstand high cutting speeds, as well as abrasive and crater wear.

grinding


grinding

Machining operation in which material is removed from the workpiece by a powered abrasive wheel, stone, belt, paste, sheet, compound, slurry, etc. Takes various forms: surface grinding (creates flat and/or squared surfaces); cylindrical grinding (for external cylindrical and tapered shapes, fillets, undercuts, etc.); centerless grinding; chamfering; thread and form grinding; tool and cutter grinding; offhand grinding; lapping and polishing (grinding with extremely fine grits to create ultrasmooth surfaces); honing; and disc grinding.