July 13, 2013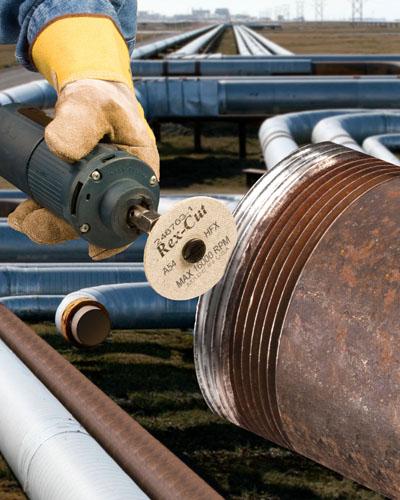 A line of cotton fiber abrasive wheels for removing rust, corrosion, and thread-lock from pipe threads during oil field inspections and process maintenance, as well as deburring manufactured pipe and tubing, is available from Rex-Cut Abrasives.
Type 1 Wheels for pipe thread maintenance feature multiple layers of non-woven cotton fabric and aluminum oxide abrasives pressed and bonded together with a soft bond and are ideally suited for removing rust and corrosion from pipe threads. For thread-lock removal without changing the thread geometry, Smooth Touch wheels with a medium bond are recommended and last up to five times longer than unitized wheels, claims the firm.
Developed for use on stainless steel, Inconel, and other highly-alloyed pipe and tubing, Rex-Cut Type 1 and Wheels for pipe thread maintenance are available 1⁄16", 1⁄8" and ¼" thick and 2", 3" and 4" sizes. For manual or robotic deburring and finishing of machined and cast parts, different grit types, grain sizes, and bonds are offered.
Related Glossary Terms
abrasive


abrasive

Substance used for grinding, honing, lapping, superfinishing and polishing. Examples include garnet, emery, corundum, silicon carbide, cubic boron nitride and diamond in various grit sizes.

aluminum oxide


aluminum oxide

Aluminum oxide, also known as corundum, is used in grinding wheels. The chemical formula is Al2O3. Aluminum oxide is the base for ceramics, which are used in cutting tools for high-speed machining with light chip removal. Aluminum oxide is widely used as coating material applied to carbide substrates by chemical vapor deposition. Coated carbide inserts with Al2O3 layers withstand high cutting speeds, as well as abrasive and crater wear.